The Minister for Interior Ambrose Dery has charged board members of the National Commission on Small Arms and Light Weapons, to generate innovative ways to curb the frightening rate of small arms proliferation in the country.
"Presently, there is a thriving weapon manufacturing industry in various communities in Ghana which is against the law.
However, these guns are fuelling all manner of land, tribal and chieftaincy disputes across the length and breadth of the country" he said.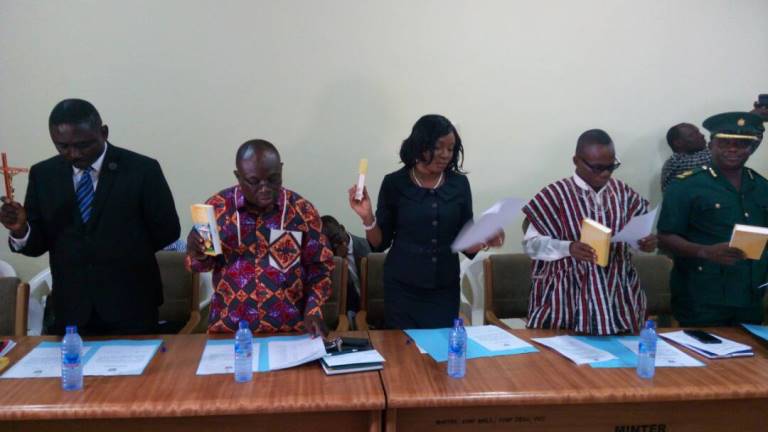 The Minister expressed worry that, ninety percent of weapons, used to perpetrate crime in the country are locally made.
"We are reliably informed that locally made weapons form about ninety percent of guns used in Armed Robbery in Ghana. Sadly, efforts by all previous governments to introduce an alternative source of livelihood to the manufacturers have not yielded the required results. The strategy of amnesty for those with unregistered arms to have them registered made very little impact," Ambrose Dery said.
He further indicated governments commitment to fight and win the battle against illicit trade and use of small arms.
"You may, therefore, have to delve deep and think outside the box to come out with more sustainable strategies to win this war"  he added.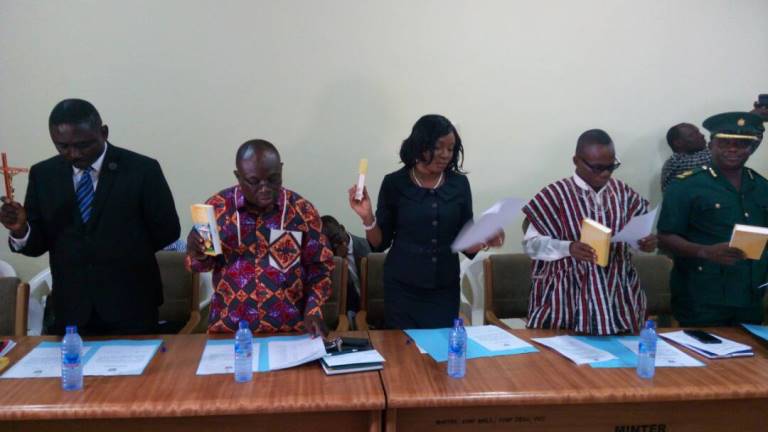 The Minister who spoke at the swearing in ceremony of the newly appointed board members of the National Commission on Small Arms and Light Weapons lamented the inadequate budgetary allocation at to the commission.
"Ladies and Gentlemen, budgetary allocations to the Small Arms Commission have not been the best over the years. The Commission is therefore unable to undertake much of their planned activities.
Though the budget allocation has improved significantly this year under the Akufo-Addo, it is still not adequate.
You may, therefore, need to put all your expertise at the disposal of the Commission to look for financial assistance from various sources to supplement what is allocated to the Commission" he said.
The fifteen member board chaired by Rev. Dr Frimpong is expected to commence work was inaugurated at the ministry of Interior.
Below is the full list of the members of the board
BOARD MEMBERS OF THE NATIONAL COMMISSION ON SMALL ARMS AND LIGHT WEAPONS
| | | | |
| --- | --- | --- | --- |
| No | NAME | POSITION | INSTITUTION |
| 1 | Rev. Dr. Paul Frimpong-Manso | Chairman | President's Nominee |
| 2. | Mr. Jones BorteyeApplerh | Member | Small Arms |
| 3 | Major. Gen. W. OmaneAgyekum | Member | Ghana Armed Forces |
| 4 | Col. GKT Sam | Member | Ghana Armed Forces |
| 5 | Mrs. Audrey NaanaAbayena | Member | Ministry of Foreign Affairs |
| 6 | Mr. Dominic A. Agyeman | Member | Ministry of the Interior |
| 7 | Mrs. Florence Mullen-Ansah | Member | Ministry of Justice & Attorney-General's Dept. |
| 8. | Mr. BaffourDoyiAmoa | Member | Civil Society of Ghana (International Action Network on Small Arms IANSA) |
| 9 | Col. Michael  KwadwoOpoku | Member | National Security |
| 10 | COP Christian TettehYohuno | Member | Ghana Police Service |
| 11 | COP Mr. Bright Oduro | Member | Ghana Police Service |
| 12 | Mr. Peter Clave Nantuo | Member | Ghana Immigration Service |
| 13 | AlhajiSeiduIddrissuIddisah | Member | Customs Excise and Preventive Service |
| 14 | Mr. Gabriel Nsoh Ade Agana | Member | President's Nominee |
| 15 | Alex Kofi Appiah-Agyapong | Member | President's Nominee |
–
By: Anass Shieba Seidu/citifmonline.com/Ghana