About 500 workers of Shaanxi Mining Company Limited operating in Gbane in the Talensi District of the Upper East Region, who were sent home to enable the Inspectorate Division of the Minerals Commission conduct investigations into the operations  of the company, are appealing to the Minister of Lands and Natural resources to fast track the investigation.
According to the frustrated workers, life has become unbearable after one month of no work and pay, hence their plea.
The Lands and Natural Resources Minister, Peter Amewu on May 4, 2017, issued a directive temporarily suspending the operations of Shaanxi mining company to conduct investigations into their operations, following the death of some miners in the area.
At a press conference at Shaanxi mining company in Gbane, Spokesperson for the frustrated workers, Edusei Rockson,  appealed to the government to bring finality on their investigations to enable them return to work.
He said a high-powered team from the inspectorate division of the Minerals Commission completed investigations on the operations of the company on May 10, 2017,  but wondered when the minister will lift the ban.
"Each day, some of us walk to the administration demanding information on when we shall return to work, while others call demanding same. All we get as responses from our management is that they are waiting on the lands and Natural resources minister Peter Amewu to determine that. Even more saddening is the fact that for one month now, we have not earned any pesewa to take care of ourselves and many other dependents. we are married with children and parents, but ever since we were sent home, payment of school fees has become extremely difficult with most of us indebted to food vendors, landlords and challenging health access" Mr. Edusei stated.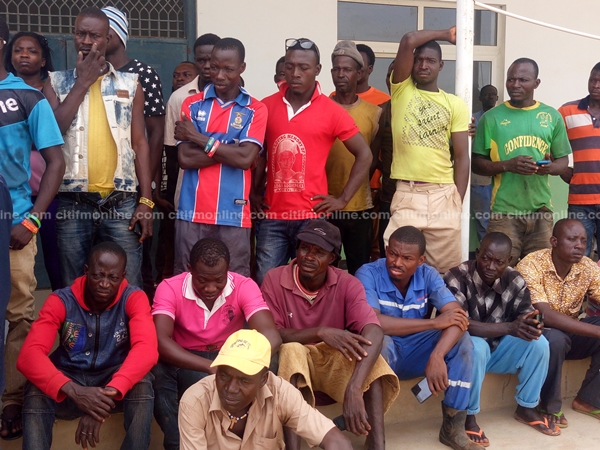 Mr. Edusei appealed to government and the Minister, Peter Amewu, to disclose their findings to enable their employer to call them to work.
The workers alleged that, illegal miners have taken advantage of the situation and are stealing ore from the company's pits, and called on the minerals commission to enforce a reclamation of all illegal pits in the area.
The workers also want the Minerals Commission to grant a large scale license to Yenyeya and Pobortaaba concessionaires, to expand their operations and employ more youth in the region.
–
By: Frederick Awuni/citifmonline.com/Ghana