Capital Bank has organised a training programme aimed at building the capacity of over 100 of its trade clients on the regulatory framework governing trade transactions. The event was also used to reward trade clients who have distinguished themselves over the past year.
The participants, drawn from the northern sector of the country, were provided with insights on the regulatory framework regarding documentations and foreign transactions.
The training, held in Kumasi, brought together trade clients of the bank from the Ashanti, BrongAhafo and Northern Regions who were also schooled on some inherent risks in international trade transactions and provided with strategies to mitigate these risks.
Opening the training programme, Managing Director of Capital Bank, Reverend Fitzgerald Odonkor said that one of Capital Bank's key strategic goals was to become the best bank for Trade Transactions and the purpose of the training programme was to enhance the Trade business of clients and also provide a platform for clients to interact with top managements so their concerns can be addressed at the highest level.
"At Capital Bank, we believe in delivering superior solutions with speed and accuracy based on your specific and individual needs. Therefore, it is important for us to consistently engage you at various levels starting from your relationship managers to executive management to understand what your peculiar needs are," he added.
The facilitators of the event were Mr Ato Pinkrah who is a lecturer at the Ghana Banking College and an examiner with the Chartered Institute of Banking with over 32 years working experience in Banking and Finance and Dora Gidisu, Head of Trade and Foreign Transactions at Capital Bank with various executives of Capital Bank addressing pertinent questions from the clients.
Mr Pinkrah encouraged the participants to develop a purpose-driven business strategy that was aligned with national and global developments to stay competitive.
"We must keep in mind that business must not occupy space but must have a purpose to survive," He said.
He also advised businesses to build their clientele base and avoid concentrating on only a small number of clients in order to diversify their risks.
He added that it was pertinent of them to record their transactions and also pass their transactions through the banks to give them insights about their transactions to facilitate tracking and decision-making.
"You must understand that every customer is important because it was the aggregation of these so called small customers that drive business growth. The fact that your business is now making millions in turnover does not mean that single customer is not important, remember when you started small, it was that small customer who was there".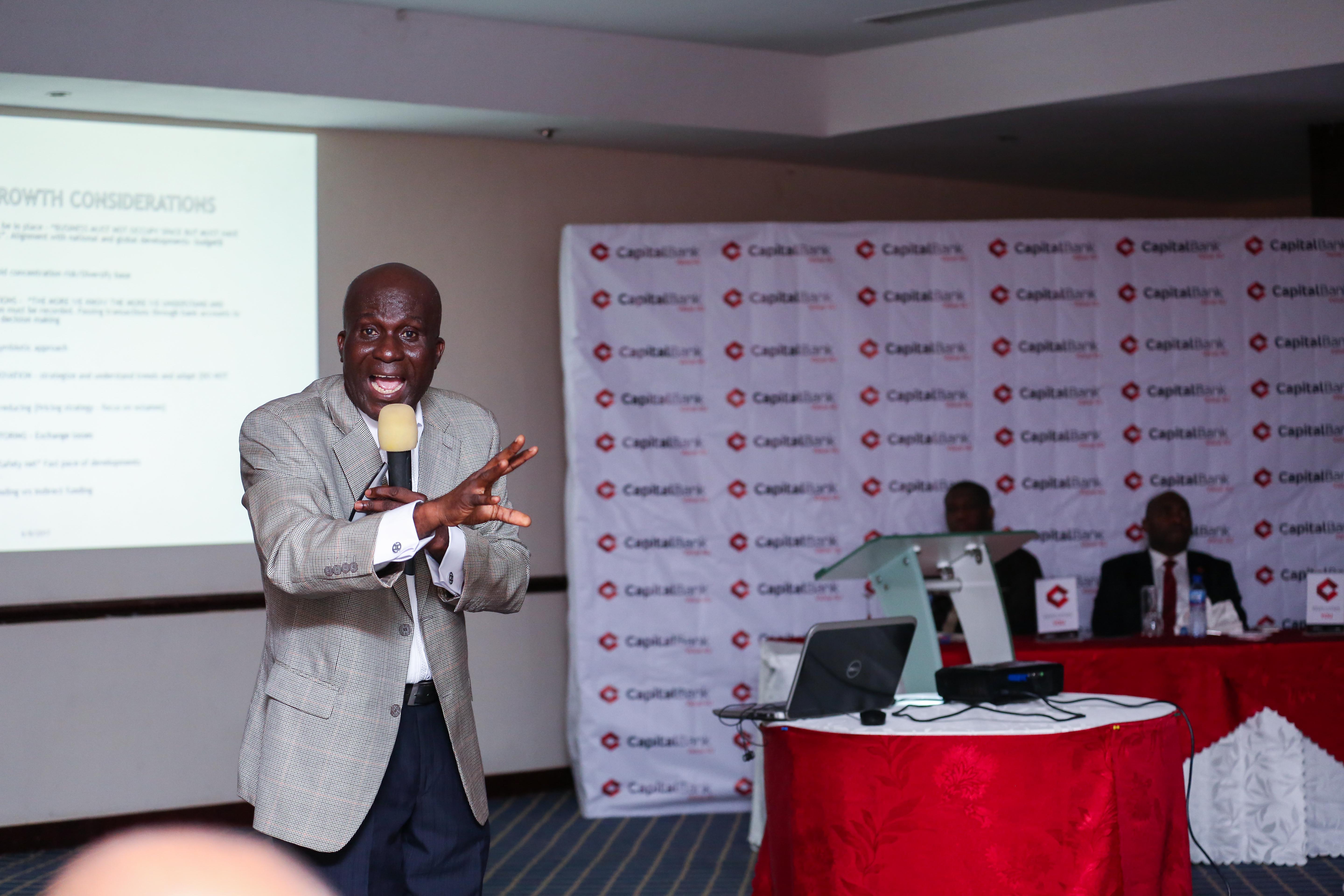 He also encouraged businesses to consistently monitor the exchange rate and engage the bank in order to prevent exchange rate losses. He also admonished the traders not to hoard the dollar but rather invest their Cedis in their businesses to yield more returns because hoarding the dollar invariably creates artificial shortage which in turn causes the cedi to depreciate.
The event was attended by the Managing Director of Capital Bank, Rev. Fitzgerald Odonkor; Emmanuel Nikoi, Chief Finance Officer; Augustine Nyarko, Chief Risk Officer; Solomon Ofori, Chief Corporate Banking Officer; Daniel Gaipkah, Chief Banking Officer; Dora Gidisu, Head of Trade & Foreign Transactions; Felix Sarpong, Head of Business Banking; Nathaniel Adom-Yeboah, Treasury & Investment Sales Manager; Nana Yaw Kesse, Head of Marketing & Communications.
The event for the Southern Sector is expected to be held on the 29th of June at the Muvinpic Hotel in Accra.
–
Credit: Capital Bank