President Nana Akufo-Addo has sworn in the new Chief Justice, Sophia Akuffo, into office.
The swearing-in ceremony took place at the Banquet Hall of the State House in Accra today [Monday].
Justice Sophia Akuffo, hours earlier, received a unanimous approval by Parliament after the House debated a report from her 5-hour long vetting last week.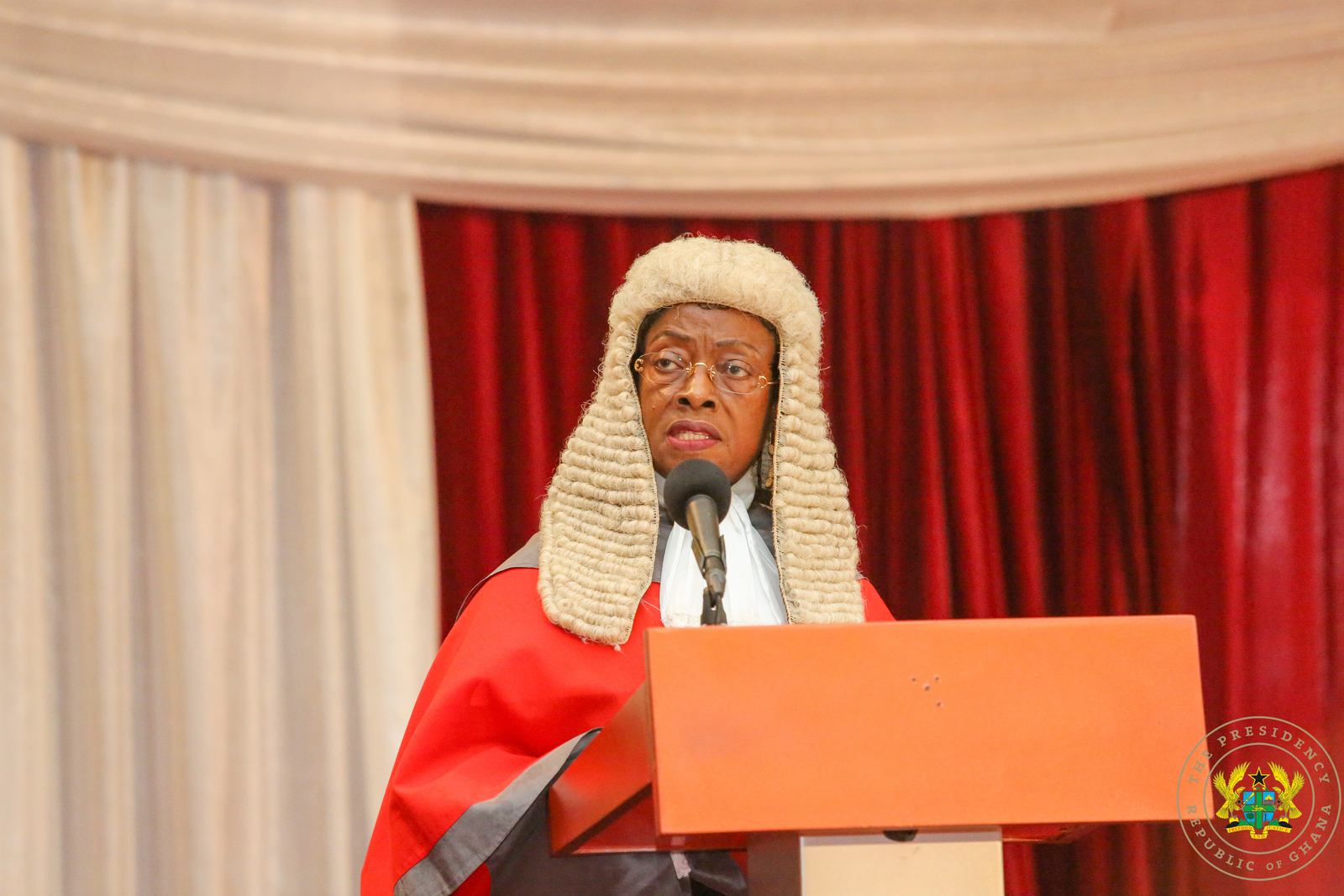 President Akufo-Addo, while swearing in Justice Sophia Akuffo, expressed confidence in her ability to deliver on her mandate.
President Akufo-Addo said the new Chief Justice "will bring honour to the Judiciary and to our country", adding that "in her, we have a worthy successor to Chief Justice Wood and the others who have gone before her."
Outlining her qualities, the President noted "hard work, discipline, capacity for detailed research, intimate knowledge of the law, independence of mind and spirit, honesty and integrity, deep-seated respect for the rule of law and for the best traditions of the legal profession, abiding belief in the sovereignty of Almighty God."
She becomes the 13th Chief Justice in the position, and the second female after the immediate past Chief Justice, Georgina Wood.
About Sophia Akuffo
Sophia Akuffo had her Masters in Law (LLM) from the Havard University in the United States.
She has been a member of the Governing Committee of the Commonwealth Judicial Education Institute and the Chairperson of the Alternative Dispute Resolution Task Force.
In January 2006, she was elected one of the first judges of the African Court on Human and Peoples' Rights initially elected for two years, she was subsequently re-elected until 2014 and is at present serving as Vice-President of the Court.
She has written The Application of Information & Communication Technology in the Judicial Process – the Ghanaian Experience, a presentation to the African Judicial Network Ghana (2002).
If confirmed by parliament Justice Sophia Akuffo will be the fifth Chief Justice under the fourth republic after; Isaac Kobina Abban who served between 1995 to 2001.
Edward Kwame Wiredu also served between 2001 and 2003 while George Kingley Acquah served from 2003 to 2007 before Georgina Theodora Wood from 2007 to 2017.
Justice Akuffo will also be the 13th Chief Justice in the history of the Republic of Ghana.
–
By: Jonas Nyabor/citifmonline.com/Ghana