The dirty linen of the New Patriotic Party in the Northern Region appears to have been flown high in the open by the Minister for Gender, Women and Children Affairs, Otiko Djaba, as she launched a scathing attack on the Party's Northern Regional Chairman, Daniel Bugri Naabu with a slew of allegations.
The Gender Minister ostensibly accused Bugri Naabu of handing out government jobs in exchange for items of seeming value, like cows and goats.
Madam Otiko, in a tirade during an interview on North Star FM in Tamale, even intimated that, Bugri Naabu had a hand in who was selected the Council of State representative from the Northern Region.
This outburst followed the first flare-up of these intra-party tensions at the Modern City hotel in Tamale on Friday, where Bugri Naabu stormed and disrupted a meeting organised by Madam Otiko for some women.
According to Citi News reports, it took the intervention of police to prevent a possible clash between two opposing forces from Bugri Naabu's camp, and the NPP's women's wing in the region, who are at odds over the regional Coordinator slot for the School Feeding Programme.
Madam Otiko insisted that, she had no involvement in School feeding matters, and explained that  she was visiting the women in the region as a courtesy and to address some health concerns after seeing to government matters in the Upper East Region.
But she said Bugri Naabu "came there to throw his weight around saying we are doing school feeding matters; but we didn't come there because of school feeding matters… Apparently, he has decided that he is in charge of everything and that he is going to give the school feeding to a particular woman. I don't know how a regional chairman can do that and because he has promised it is going to that woman, he thinks I will come in and [interfere]."
"As we speak, nobody has been appointed for school feeding as the contracts of the persons currently employed were yet to end," Madam Otiko insisted.
The allegations also extended to the tensions in Savelugu where NPP youth are demonstrating against President Nana Akufo-Addo's choice of District Chief Executive.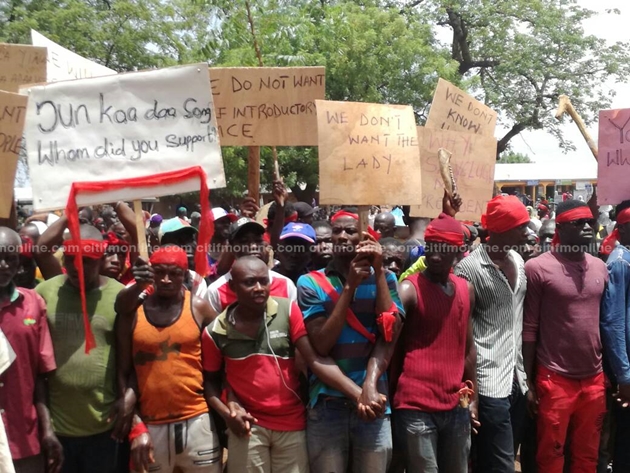 "He [Bugri Naabu] is also trying to cover up issues concerning the DCEs. I have nothing to do with DCEs. I am in Tamale. I never went to Savelugu; but he claims that I went to disrupt Savelugu DCE confirmation meanwhile they are not even doing confirmation in Savelugu today [Friday].
Bugri Naabu should respect himself
As the interview progressed, Madam Otiko grew more incensed with the turn of events as she offered stern warnings, spiced with more allegations towards the NPP Northern Regional Chairman.
"I don't know why Chairman Bugri wants to lie and use me as a cover-up for his problems. I want Chairman Bugri to understand. Whatever it is that is making him do the things he is doing; he should be very careful. I am the last person he wants to have trouble with."
"…He should respect himself and stop lying about me. He cannot appoint school feeding people. He is not the only one in the region. He wants to be the one to appoint these people; for the Council of Elders and who and who."
Sh further cheekily challenged the Regional Chairman to return all the gifts he had collected from people with the promise of various positions.
"I want him to stop telling lies about me and to stop collecting people's things and promising them jobs he cannot give. When he goes and does that, after he has collected their money and their cows and goats, then he will come and put the trouble on Otiko. Otiko will not accept it. If Bugri wants trouble from me then the trouble will come."
–
By: Delali Adogla-Bessa/citifmonline.com/Ghana