The leadership of the New Patriotic Party (NPP) in the Northern Region, has suspended the party's Deputy Regional Women's Organizer, Hajia Safia, for allegedly ganging up with the Minister for Gender, Women and Children Affairs, Otiko Djaba, to cause confusion in the region.
This according to the Northern Regional Chairman of the NPP, Daniel Bugri Naabu, was a unanimous decision taken by the Northern Regional Executive Committee on Sunday.
"As I'm talking to you now, yesterday [Sunday], the regional executive committee met, and the decision was a unanimous decision. All the executives sanctioned that we should suspend her [Hajia Safia]. So she is on suspension as the Deputy Regional Women's Organizer," he said.
[contextly_sidebar id="9tMMji3EiOzYPp2M0zRBx8a9bxZRBFJ5″]Bugri Naabu while speaking in an interview with Accra-based radio station, XYZ, said the Regional Executive Committee has also asked the Tamale Central and South constituency executives to do same for their Women Organizers who took part in that meeting.
"These are the people she [Otiko Djaba] ganged up with to destabilize my [Northern] region…We are also asking Tamale Central and Tamale South constituency executives to discipline the other two constituency women organizer's in the same way," he added.
Background
There is currently a standoff between the NPP Northern Regional Chairman and the Gender Minister, after the former truncated a meeting organized by the Minister in the region.
According to Bugri Naabu, he obstructed the meeting because it was organized illegally without the notice of the regional leadership of the party.
Unhappy over the turn of events, Otiko Djaba in a radio interview accused Bugri Naabu of handing out government jobs in exchange for items such as cows and goats.
"I want him to stop telling lies about me and to stop collecting people's things and promising them jobs he cannot give. When he goes and does that, after he has collected their money and their cows and goats, then he will come and put the trouble on Otiko. Otiko will not accept it. If Bugri wants trouble from me then the trouble will come," she said.
I'll sue Otiko
Bugri Naabu has also on his part threatened to drag Otiko Djaba to court for defaming him.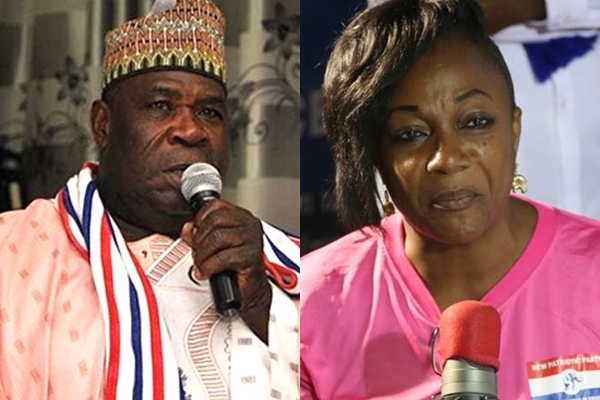 "She should show me the person who gave me money or I asked for money, the person who gave me cow or I asked for cow, the person who gave me sheep or goat if I asked for it. I am asking her that I need evidence, if no evidence; I'm putting her before court," he said.
–
By: Godwin Akweiteh Allotey/citifmonline.com/Ghana
Follow @AlloteyGodwin