About 500 jobless health professionals have staged a protest at the Ministry of Health to demand immediate employment.
According to them, the government has failed to employ them a year after completing their academic programmes.
The Allied Health Professionals, comprising graduates of the College of Health in Kintampo and the School of Dispensing Optics in Oyoko say their protest has become necessary because all previous attempts to get government to post them to health facilities have proven futile.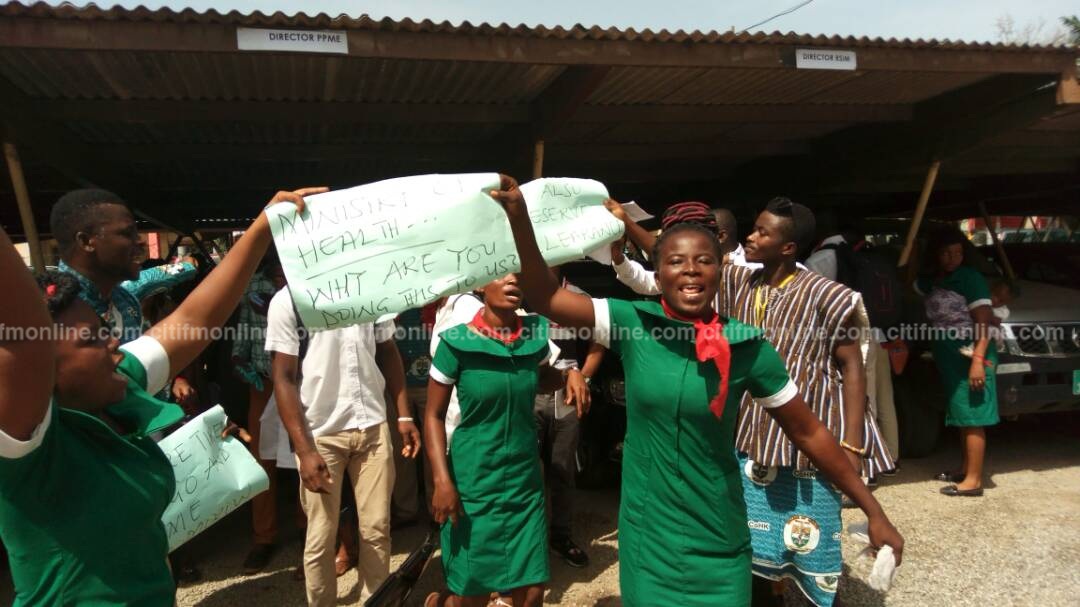 The President of the group, Solomon Yeboah told Citi News, that the Ministry has betrayed their trust by granting financial clearance to the Coalition of Unemployed Bonded Diploma Nurses at their expense.
"We are here because the Ministry had betrayed the trust we had in them. We have met them on several occasions with petitions upon petitions but all have fallen on deaf ears. But when our colleagues came here to picket for just one day, the ministry has given them financial clearance, therefore we also see it as necessary to also picket, because the only means by which we can get financial clearance is picketing since the dialogue didn't work."
The action by the group follows a similar one by unemployed bonded diploma nurses who received clearance from the Finance Ministry after picketing the Health Ministry over government's failure to employ them over a year after they completed their academic programs.
"Our focus is until our clearance is released, we are not leaving these premises, irrespective of the number of days it will take, we are here, we will sleep here, we are bath here, we are prepared. You ignore us and ignore us and give over 4,000 people clearance meanwhile our document have been with the ministry for nine good months. Some people just completed last two months and you have included them in the clearance and for us, you have ignored us, what do you take us for?" Solomon Yeboah added.
Meanwhile, the Coalition of Unemployed bonded diploma nurses has announced that it is calling off its planned picketing at the flagstaff House which was slated for today [Monday]. According to them, the decision to cancel the action is based on government's assurance that they will be recruited to work in some health institutions.
They said the government has given them the clearance to be posted after they picketed the Ministry of Health for failing to employ them even after their graduation.
–
By: Felicia Osei/citifmonline.com/Ghana