The Eastern Regional House of Chiefs has given its judgment on the Akwamu cheiftaincy dispute which had been pending for over 25 years, declaring Odeneho Kwafo Akoto III, as the recognized and accepted Paramount Chief of Akwamu.
The case involved Abusuapanyin Kojo Kyer Addaquay and Abrewatia Love Adwo  Som as the petitioners, and Nana Afrakoma II, Nana Nyarkoa (Benkumhemaa) Nana Asomani (Amanguahene) and Kwame Owiredu as the respondents.
The petitioners challenged the eligibility of Odeneho Kwafo Akoto III, the Paramount Chief of Akwamu, stating that the Chief was an outsider who was not from the royal family.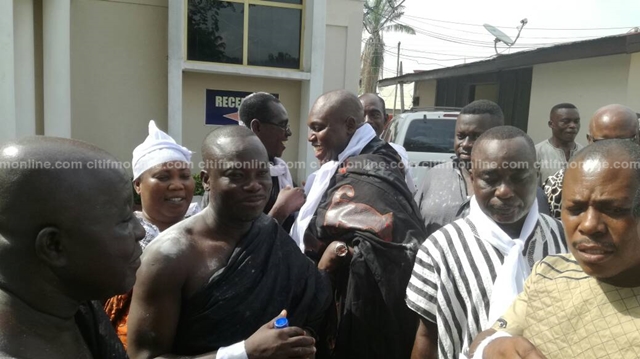 They also held that, the process through which he ascended the throne 6 years ago, was not in conformity with customs of Akwamuman.
The counsel for the Eastern Regional House of Chiefs which sat on the case in Koforidua, constituted the Okyenhene, Osagyefo Amoatia Ofori-Panin, the chairman, Nana Gyankomah Djaba Mensah, the council and recorder, Okotwasuo Kantamanto Oworae Agyekum III (member), and Nana Sakite the kronor of Manya krobo (member).
The Judgement
Nana Gyankomah Djaba Mensah who read out the verdict on the decision taken by the council stated  that"As conclusion of the whole matter, Nananom find as per the evidence, facts, History, Custom and all the exhibits presented before them that…
1. To ascend to the black stool of Akwamu, a candidate must of necessity come from either the house of Yaa Ansaa or Yaa Botwe
2. That there is no established system of rotation in Akwamu to ascend to the Paramount stool.
3. That as far as the history of the people of Akwamu is concerned, the office of Queen mother is not alien to the people of Akwamu
4. That the first respondent was validly nominated, elected and installed the paramount chief of Akwamu in accordance with the custom and practices of the people of Akwamu".
The counsel for the respondents after the judgment, made a plea that an amount of GHC 50, 000.00 be paid to his clients as compensation to defray the cost of time, resources and money spent to and fro in pursuance of the case. However, the chairman of the Regional House of Chiefs, Okyenhene Osagyefo Amoatia Ofori Panin together with his jury, pleaded for a reduction which was accepted by the respondents and pegged at GHC 15.000.00.
Odeneho Kwafo Akoto III, who was full of joy and smiles in an interview with Citi News called for unity at Akwamu, saying "this victory is not for one group, it is for the whole Akwamu so everyone should not be shy, let's all come together as one big family and develop Akwamuman".
A grand Durbar is scheduled to be held on Sunday at the forecourt of the Chiefs Palace in Akwamufie.
–
By: Neil Nii Amatey Kanarku/citifmonline.com/Ghana