Ghana's fight against illegal mining, popularly known as galamsey, is not a witch-hunt against Chinese nationals, President Nana Akufo-Addo has said.
Speaking in Obomeng Kwahu, Eastern Region on Saturday, the President asserted that, the law which criminalizes illegal mining will be enforced irrespective of any nationality.
[contextly_sidebar id="Fr0j1vmzrSMt2Ngo1bCU6AaSJvME60ey"]"We all know the laws of Ghana have no sympathy for nationality whatsoever. The law affects everybody including the Chinese. It does not give permits to visitors or anybody to engage in illegal mining. Whosoever is caught will be made to full rigour of the law."
"This doesn't mean we have any qualms with the Chinese government or we hate the Chinese nationals. All I am saying is they should respect the laws of our land just as they do theirs," President Akufo-Addo added.
The President was responding to a plea from Obomenghene Nana Effah Opinamang III, who requested that the President takes stringent measures to deal with the galamsey menace.
He assured that his remarks on the fight against illegal mining were not empty promises as his administration was going to deal with galamsey "once and for all in the history of our country."
"I will be meeting with my sector minister to discuss extensively on this galamsey issues and hopefully in the next coming days you will all see the changes."
China upset
The Chinese mission in Ghana has already expressed anger at the manner in which Ghana is dealing with the issue of illegal mining. They've criticized the media for targeting Chinese nationals in their reportage.
The mission, in a letter, addressed the Minister for Lands and Natural Resources, said bilateral relations between Ghana and China would be affected if it still felt like it was being targeted by anti-galamsey campaigns.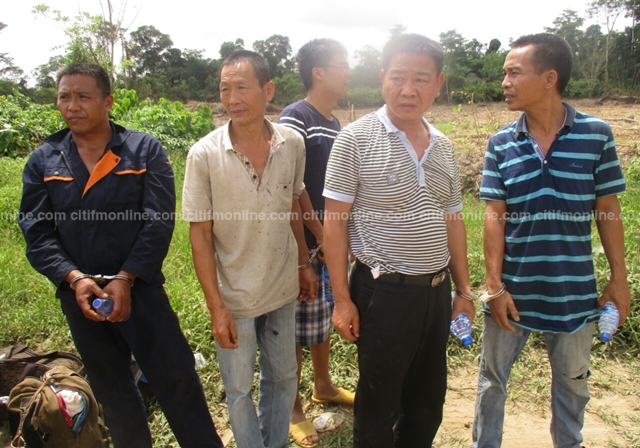 The Chinese mission's concerns came as civil society groups and the media have escalated campaigns against illegal mining, which is known to have a high volume of Chinese nationals engaged in it.
Citi FM is championing a #StopGalamseyNow campaign which is rallying various stakeholders to address the menace, which has left devastating effects on farmlands and water bodies.
Evidence from media reports and CSOs, including police arrests, confirms the high involvement of Chinese in the activities, but China, has urged government must minimize the mass arrest of illegal miners and deal with culprits on an individual basis.
According to China,  Chinese illegal miners were also victims of fraud and blackmail and needed some kind of special attention before any definite actions are taken.
Nana Addo on Fulani
On the issue of Fulani herdsmen, President Nana Akufo-Addo gave an assurance that his government is working on policies to guide cattle ranching in the country.
He said, "very soon the issue and problems associated with Fulani will be a thing of the past, we are soon coming out with policies which will go through parliament for approval to streamline the activities of these Fulani herdsmen in the country"
–
By: Neil Amatey Kanarku/citifmonline.com/Ghana