President Nana Addo Dankwa Akufo-Addo has the best opportunity to fight small scale illegal mining in the country following the massive support and backing from the media, civil society organizations and many Ghanaians.
This is the assertion by the National Democratic Congress' Member of Parliament for the Ningo Prampram constituency, Sam George.
"This government has the best opportunity to fight galamsey. Previously, President Mahama tried it, the media did not support it, the media was silent. Today the media has embraced it so the government of Nana Addo must show political will," he said in an interview with Citi News.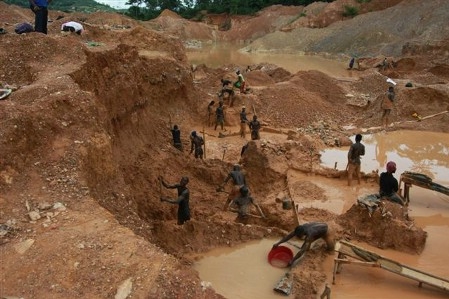 There has been intense pressure on government from all levels for the cessation of illegal mining also known as galamsey in Ghana following Citi FM's consistent revelation about the effects of such activities on river bodies and the environment.
[contextly_sidebar id="7gdC5fuNgHggyIe7lZwnVTf1tlNQo6Mi"]Watchers of the mining sector have predicted that Ghana may soon import water if the menace is not stopped now.
Citi FM in playing effectively its advocacy role last week launched a campaign dubbed #StopGalamseyNow in a bid to put pressure on duty bearers to halt all galamsey operations in the country.
Other civil society organisations including IMANI Ghana, the Centre for Democratic Development (CDD), the Ghana Anti-Corruption Coalition (GACC) as well as other media houses have also joined the fray.
Meanwhile speaking to Sam George on the sidelines of Citi FM's #StopGalamseyNow petition presentation to Parliament last Friday, the Ningo Prampram legislator said the fight against galamsey will yield no positive result if politicians who allow such impunity to go on are not "named and shamed."
"The fight against galamsey is basically superficial; we are not going down to the real facts of the issue. The people who are engaged in galamsey activities are known to the security services. Politicians who have offices by virtue of sponsorship from galamsey operators are known. There are politicians at all levels of governance from the district assembly to parliament to the highest office of the land whose political campaigns have been supported by individuals whose only business is galamsey. So the bottom line is until and unless we are ready to name, shame and arrest, be it politicians, traditional leaders, in whose domains these things happen, who know and connive and facilitate the acquisition of land for some of these galamsey operators, we are going nowhere," he argued.
Sam George further explained that the so-called Chinese who are accused of being involved in galamsey activities in Ghana do not operate on their own but with support from leaders and politicians in the various catchment areas.
"The Chinese man in China, how does he know that there is gold in a particular part of the Eastern Region or Bole Bamboi? This is not on the basis of politics it is a national catastrophe and that is why I am saying that we must put aside everything; we must have the political will," he added.
–
By: Godwin Akweiteh Allotey/citifmonline.com/Ghana
Follow @AlloteyGodwin