The Upper East Regional Minister, Rockson Bukari Ayine, has hinted that the defunct Zuarungu meat factory will be turned into an abattoir, while awaiting rehabilitation under the 'One District One factory' policy of the New Patriotic Party (NPP).
The GIHOC Zuarungu Meat Product company Limited in Dulugu, with its raw materials coming from neighbouring Burkina Faso, Mali and other countries, started large production in 1965 with over one thousand canned beef produced each day, but was closed down in 1995 due to mismanagement.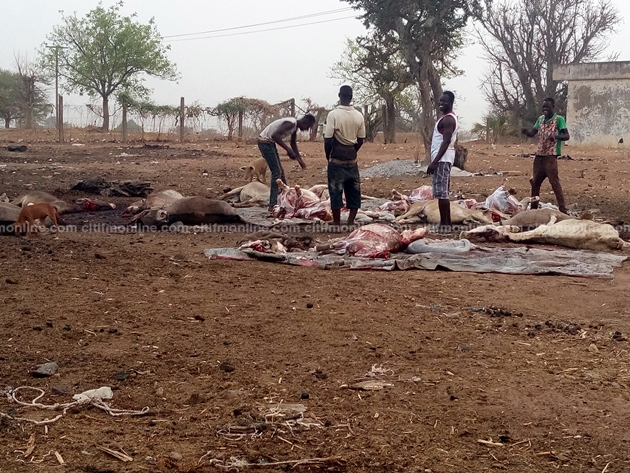 But Speaking to Citi News in Bolgatanga, Mr. Rockson Ayine said, the defunct factory, when turned into an abattoir, will create about 400 direct and indirect jobs for the youth in the region.
He explained that, the abattoir will be responsible for all animal slaughtering activities, while the current Bolgatanga slaughter house will be used as an outlet for selling meat.
"We want to turn the meat factory into an Abattoir where the Bolga slaughter house will turn into an outlet for selling meat, but everything will be done at the Abattoir so that we can create about 400 jobs and the Wulugu livestock will also come back because we will be needing cattle to feed the factory."
He said the current Bolgatanga slaughter house did not have enough space to accommodate many animals, and the rising number of butchers in the business.
Mr. Rockson intimated that, even though some machines at the factory are obsolete and need to be replaced, others are in good state and can facilitate the works of an abattoir, while waiting for the factory to be fully rehabilitated under the One-District-One-Factory policy.
Some butchers at the Bolgatanga slaughter house told Citi News, the move is a good one and will inure to their benefit.
'Current state of the factory'
Not only are some of the factory's machines obsolete, some miscreants have begun removing the wire mesh used as fence.
Louvre blades of most windows of the factory are also damaged. A portion of the factory is now being used by some donkey skin sellers as their business center.
A man who only gave his name as Martin, said the skin of a donkey is sold to the Chinese for between GHC300.00 to GHC400.00, whilst the real meat is smoked and sent down South for sale as bush meat.
He added that, due to the high demand for the skin of donkeys by the Chinese, they slaughter averagely between 20 to 50 donkeys a day.
When asked whether he knows what the donkey skin is used for by the Chinese, he said he had no idea, but noted that the demand for the skin has created jobs for them.
"We make profit from the business because we buy a donkey in the open market for between GHC500.00 to GHC 600.00, and sell the skin for between GHC300.00 to GHC400.00, and the meat also gives us good money particularly when sent to down South for sale"
–
By: Frederick Awuni/citifmonline.com/Ghana