The Chinese illegal miners and their Ghanaian accomplices who were arrested on River Ankobra in the Western Region  last Friday, appeared at the Sekondi High Court on Monday [March 27th 2017], where they were remanded into police custody to reappear on April 10, 2017.
The accused miners were first sent to the Sekondi Magistrate Court immediately after they were brought from Ankobra River, to seek a court order to have them in police custody until Monday.
The Magistrate Court in Sekondi was the only available court in session at the time they were brought. That explains why they were taken to that court. 
[contextly_sidebar id="8eNDAXhfwki9vGhIvb7QxMKgI8nl4Ps6″]At the first hearing, the state prosecutor in the person of Sergeant  Francisca Nyarko and counsel for the accused  Stephen Alewabah, sort to move the case to a court that has the jurisdiction to hear it.
Presiding Judge Susanna Eduful granted them their plea, and the case was transferred to the Sekondi Circuit Court. 
When the accused were taken to the Circuit Court, the court was not sitting, and so they had to be transferred to another court. This time, they ended up at the Sekondi High Court.
At the Sekondi High Court, a Senior State Attoney, George Sackey, took over from Sergeant Francisca Nyarko. The presiding Judge is now High Court Judge Justice Edward Amoako Asante.
When hearing commenced, Counsel for the accused persons in opening his defense, prayed the court to grant the 10 accused persons bail.
He argued that, both the five Chinese and the Ghanaians legally reside in Ghana with requisite documentations, and that they can be granted bail pending the first hearing of the case.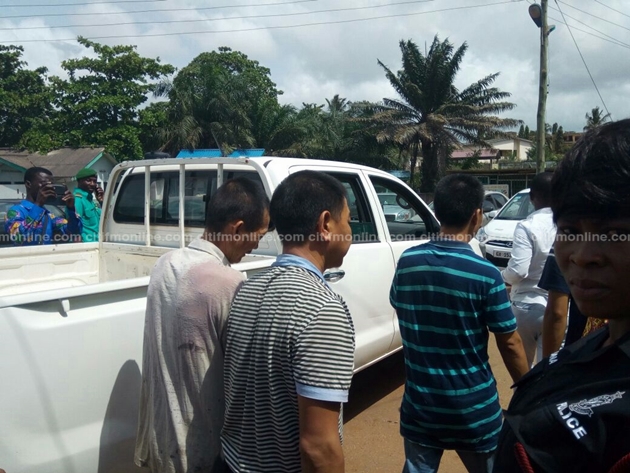 But senior state attorney, George Sackey, also argued that, the state had not finished with its investigations into the matter, and is thus holding talks with the Minerals Commission to ascertain whether the miners had authentic mining permits on the river.
He argued again that, when the accused persons are granted bail, they may have the opportunity to distort evidence that the witnesses in the case may be willing to provide, and that the accused should be made to remain in police custody.
The presiding Judge Justice Edward Asante after hearing the two arguments, refused to grant the accused persons bail, stating that, the state be given two weeks to gather other facts to support its case.
He gave them 10th April to reappear in court.
–
By: Obrempong Yaw Ampofo/Citifmonline.com/Ghana