US President Donald Trump has vowed to start building a wall on the Mexican border "soon, way ahead of schedule", in a speech at a conservative event.
Addressing the Conservative Political Action Congress (CPAC), he vowed to always put American citizens first and build a "great, great border wall".
He also promised to focus on "getting bad people out of this country".
Mr Trump was greeted by chants of "USA, USA, USA!" as he addressed the annual forum in Maryland.
The Republican recalled his first appearance at CPAC in 2011, when he delivered one of his first political speeches at the event.
He did not attend last year's conference, but did show up in 2015.
"We're building the wall," Mr Trump said in his keynote address on Friday.
"In fact it's going to start very soon. Way ahead of schedule. It's way, way, way ahead of schedule."
His comments come a day after Secretary of State Rex Tillerson and Homeland Security Secretary John Kelly met their Mexican counterparts in Mexico City.
Neither made any mention of the wall in Thursday's news conference after their closed-door meetings.
The wall could cost up to $21.5bn (£17.2bn), according to Reuters, citing a Department of Homeland Security internal report – much higher than Mr Trump's estimated price tag of $12bn (£9.6bn).
Mr Trump also needs Congressional approval for funding before moving forward with construction.
On Friday, President Trump also said he was working on a plan to "totally obliterate" the so-called Islamic State.
"Foreign terrorists will not be able to strike America if they can't get in to America," he said.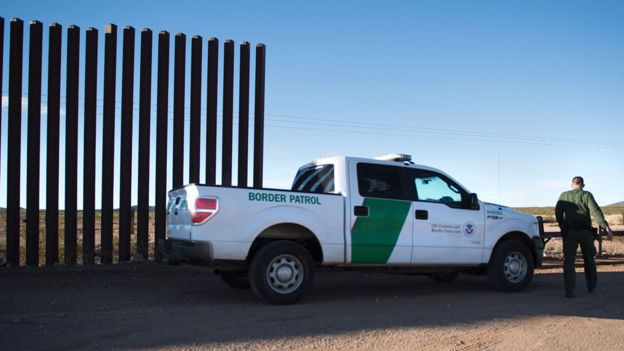 Mr Trump continued that he "took a lot of heat on Sweden", referring to his erroneous claim that an attack had recently happened there.
He told the crowd: "I love Sweden… but the people over there understand I'm right."
The president then referred to terrorist attacks in France before telling an anecdote about a friend who used to love travelling to Paris every year, but has stopped because "Paris is no longer Paris".
One of the loudest rounds of applause came when he emphasised his 'America First' outlook.
"Global co-operation, dealing with other countries, getting along with other countries is good," he said. "It's very important.
"But there's no such thing as a global anthem, a global currency or a global flag.
"This is the United States of America that I'm representing. I'm not representing the globe; I'm representing your country."
Mr Trump is the first president to address the group during his first year in office since Ronald Reagan in 1981, according to American Conservative Union chairman Matt Schlapp.
–
Source: BBC