The successful mediation process in The Gambia gives true meaning to the relevance of the Economic Community of West African States (ECOWAS), former President John Mahama has said in a tweet.
The tweet comes a day after the newly elected President of The Gambia, Adama Barrow, was formally sworn into office.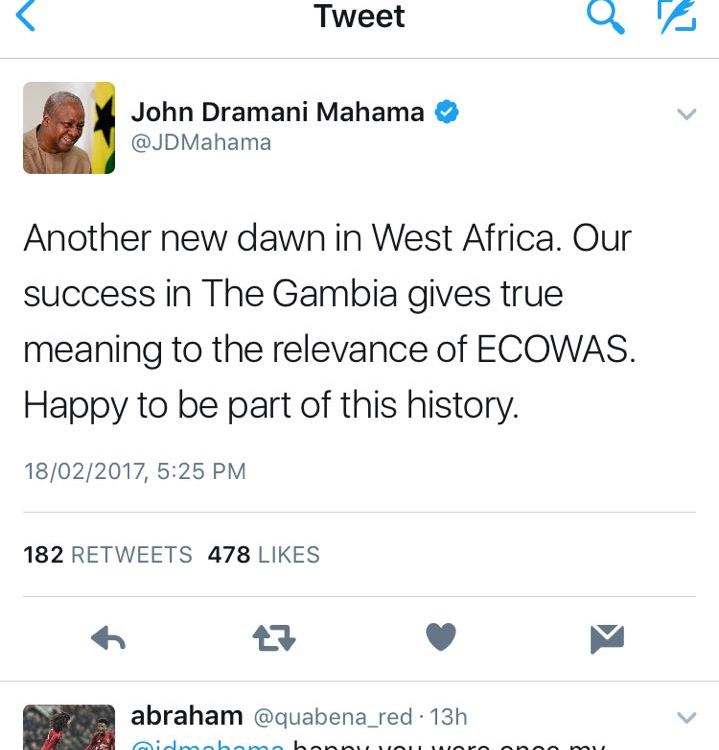 Mahama asked to intervene
Former President Mahama was asked to continue his mediation role in the effort to resolve the Gambian political impasse.
In an ECOWAS meeting held on the sidelines of the inaugural ceremony of President Akufo-Addo, Mr. Mahama was asked to continue to assist President Muhammadu Buhari as co-mediator in the Gambian issue.
In a telephone conversation, President Akufo Addo personally conveyed the ECOWAS decision to Mr. Mahama and expressed his confidence that with his help, President Buhari would be able to realize a peaceful resolution of The Gambian impasse.
Background
There has been heightened tension in that country after long time ruler Jammeh, decided to reject results of their December 1 election, weeks after he had conceded defeat to the opposition leader, Amadu Barrow.
West African Leaders earlier deployed a standby force to the Gambia after several efforts to compel Yahyeh Jammeh to step down proved futile.
The move came on the back of attempts by West African Leaders including a committee led by Nigeria's Muhammadu Buhari and Ghana's John Mahama, failed to convince Jahmmeh who has ruled the Gambia for 22 years to concede.
–
By: Marian Ansah/citifmonline.com/Ghana