The Government of South Africa says it no longer recognizes Yahya Jammeh as President of The Gambia.
A statement issued by the government on Friday, January 20, congratulated Adama Barrow and said he was the legitimate leader of the West African country.
The statement said, "South Africa recognizes President Adama Barrow as the legitimate President of The Gambia, and looks forward to a close working relationship with him and the people of The Gambia, to build and strengthen our bilateral relations."
"South Africa commends the sterling efforts made by the international community, spearheaded by ECOWAS, the AU and the UNSC in the quest to finding a lasting and peaceful resolution of the political crisis in The Gambia."
The government of South Africa further urged longtime leader of The Gambia, Mr Yahya Jammeh, to cooperate with the sub-regional bloc and step down peacefully.
While wishing Mr. Barrow well in his administration, it expressed hope that he returns to The Gambia to assume his democratic responsibility of Presidency.
"The South African Government calls on and urges former President Yahya Jammeh to cooperate with ECOWAS, and should step down peacefully."
In conclusion, the South African Government expressed it hope that President Adama Barrow returns to his country to assume the role democratically bestowed on him by the people of The Gambia.
'Jammeh asks for extension of ultimatum'
ECOWAS is making frantic efforts to ensure long-time leader of The Gambia, Yahya Jammeh to step down after he lost the December 1 elections to Adama Barrow.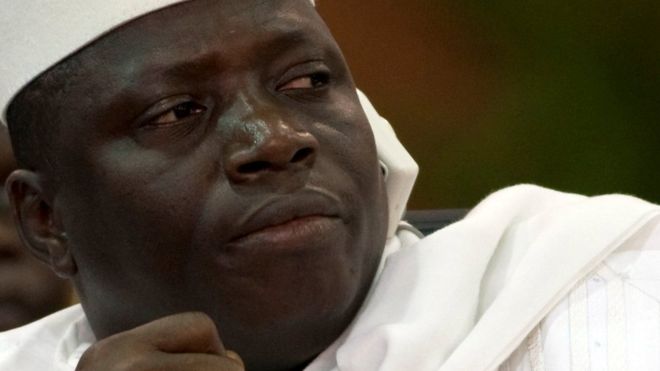 In what appears to be final attempts to get Jammeh to step down, ECOWAS issued an ultimatum to Mr. Jammeh to step down by 1600GMT.
Mr. Jammeh, has been meeting with the President of Guinea, Alpha Conde, and President Mohamed Ould Abdel Aziz of Mauritania within the period over the situation.
The talks appear to be the last possible attempt by the subregional body to strike a deal with the former leader before it introduces its military troops.
ECOWAS troops had been on standby on the border of the Gambia since Wednesday, but moved into the country on Thursday when the UN Security Council approved of ECOWAS' military actions in the West African country.
'Barrow sworn in as President'
President Adama Barrow was sworn into office at the Gambian Embassy in Senegal after Jammeh's refusal to step down forced him to leave the country for Dakar.
His inauguration was witnessed by representatives of the ECOWAS, AU and the UN as well as members of the diplomatic corps.
–
By: Jonas Nyabor/citifmonline.com/Ghana
Follow @jnyabor