President Donald Trump has fulfilled a campaign pledge by signing an executive order to withdraw from the Trans-Pacific Partnership (TPP).
The trade deal, a linchpin of ex-President Barack Obama's Asia policy, was signed by 12 nations.
"Great thing for the American worker what we just did," said Mr Trump as he dumped the pact with a stroke of a pen.
He also cut funding for international groups that provide abortions, and freeze hiring of some federal workers.
Mr Trump's executive order on TPP is seen as mainly symbolic since the deal was never ratified by a divided US Congress.
During his presidential campaign, he criticized the accord as a "potential disaster for our country", arguing it harmed US manufacturing.
What is the TPP?
The trade deal, which covered 40% of the world's economy, was negotiated in 2015 by nations including the US, Japan, Malaysia, Australia, New Zealand, Canada and Mexico
TPP's stated aim was to strengthen economic ties and boost growth, including by reducing tariffs
It included measures to enforce labour and environmental standards, copyrights, patents and other legal protections
The agreement, backed heavily by US business, was designed to potentially create a new single market likened to the EU
Critics argued it was a not-so-secret gambit to box in China, which is not part of the agreement
What is the Trans-Pacific Partnership?
The Trump administration's first weekday began with a flurry of executive orders, which allow the president to bypass Congress by issuing legally binding directions to federal agencies to take action on anything from White House decorations to foreign policy.
Mr Trump signed an executive order blocking foreign aid or federal funding for any nongovernmental organisation that provides abortions abroad.
The so-called Mexico City policy was first established by Republican President Ronald Reagan in 1984.
It is typically rescinded by incoming Democratic presidents, including Barack Obama in 2009, and reinstated by Republican presidents.
The president also signed an executive action placing a hiring freeze on non-military federal workers.
Also on Monday morning, Mr Trump pledged to "massively" cut regulations and taxes on companies, but impose "a very major border tax" if they move factories outside the US.
"All you have to do is stay," he told executives from 12 companies including Lockheed Martin, Under Armour, Whirlpool, Tesla and Johnson & Johnson.
After meeting the business leaders at the White House, Mr Trump pledged to lower corporate taxes to 15% or 20%, from the current 35%, and slash regulations by up to 75% if they keep jobs in the US.
"A company that wants to fire all of its people in the United States, and build some factory someplace else, and then thinks that that product is going to just flow across the border into the United States – that's not going to happen," he said.
Dow Chemical chief executive Andrew Liveris told reporters afterwards he would take the president at his word.
"He's not going to do anything to harm competitiveness," said Mr Liveris. "He's going to actually make us all more competitive."
Mr Trump is due to meet labour leaders in the afternoon.
Since winning the White House, he has upbraided US companies that have moved factories overseas.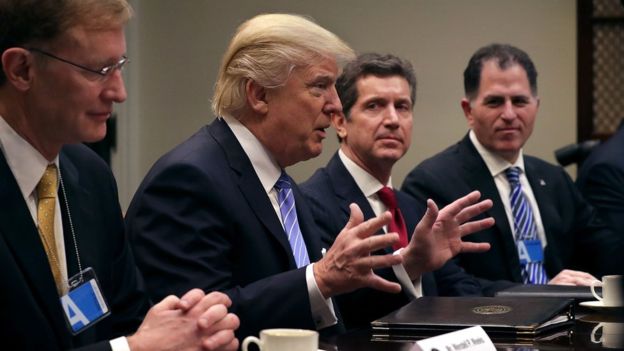 Getting down to business – Anthony Zurcher, BBC News North America Reporter
The start of the Trump administration has looked less like a well-planned parade and more like the running of the bulls in Pamplona. But is there order behind this chaos?
The president and his press secretary spent the weekend blasting the press and its coverage of the inauguration – and that rolling feud unsurprisingly dominated headlines.
Behind the scenes, however, Republicans in the executive branch and Congress are getting down to the business of advancing their political agenda.
The president issued executive orders on trade and abortion on Monday. Congressional committees will soon begin hammering out tax and healthcare legislation.
The bumpy start to Mr Trump's presidency has some questioning whether the president is squandering his power, which traditionally is at its height in the first few months of a presidential term.
Power, however, is what you make of it – and the real test of Mr Trump's strength won't be in the tut-tutting of newspaper editorial pages over tweets and ad-libbed speeches, it will be policies enacted and legislation signed.
While it's easy to dismiss Mr Trump's moves as missteps, if conservatives continue to charge through the chaos, they may learn to love their new president's unconventional style.
The US Senate will meanwhile vote on his nomination of Mike Pompeo to be CIA director.
Rex Tillerson's nomination as secretary of state was effectively guaranteed on Monday as Senator Marco Rubio dropped his objections.
On Saturday, Mr Trump launched a stinging attack on media reporting of attendance figures and the weather at his inauguration.
During a heated exchange on NBC on Sunday, his senior adviser Kellyanne Conway said the White House had "alternative facts", a phrase that quickly went viral.
–
By: BBC