The Speaker of Parliament, Rt Hon Mike Oquaye, has expressed his displeasure at the current conditions of service of Members of Parliament, and is calling on the public to seriously consider improving it.
He said the salaries of the Members of Parliament must be reviewed and he will help to achieve that.
Prof Mike Oquaye added that, Parliament needed a new chamber as well as a good library to facilitate its work.
In his acceptance address after taking the oath of office administered by Chief Justice Georgina Theodora Wood on January 7, 2017, Prof Oquaye said, "I want to use this opportunity to convey to our country men and women – we should seriously better the lot of our MPs. Why can't MPs be given official vehicles for their work as pertains in other places? Then they can get loans for other vehicles for other uses."
"Hon. Members, we have a need for a New Chamber, good library, books, mimeographs, researchers which go beyond National Service Personnel. I believe I can help in seeking the needed assistance for Parliament to improve the salaries and conditions of work for MPs," he added.
He lamented that, Members of Parliament were not given official cars for their work, as it is done in other parliaments.
While urging the New Parliament to work hard in the interest of the country, he said the dignity of the house will not be compromised.
"The dignity of this House is crucial and with your cooperation that dignity shall not be compromised. We owe this to all Ghanaians. You have Parliamentary immunity and immerse privileges which cannot be toyed with by any person, body or authority. I shall help to maintain this without fail. There are privileges and responsibilities. If you abuse the trust, you will be dealt with."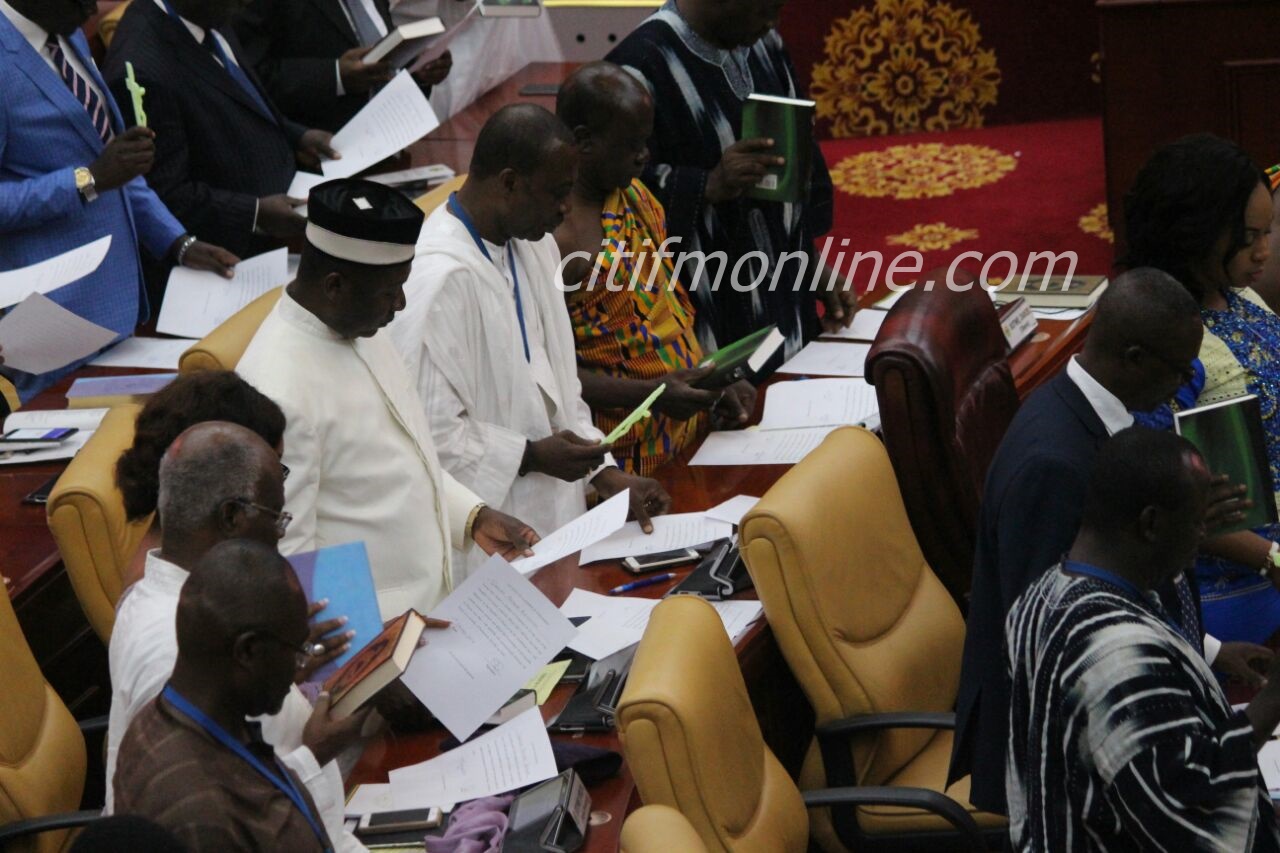 He warned the MPs that they will be severely penalized if they fall foul to the law.
"No charge of corruption or abuse of office should come nigh thee. If you fall foul of the law, the Special Prosecutor will not be expected to spare you. A law maker cannot be a lawbreaker."
He also called on the MPs to ensure punctuality and active participation in the activities of the house, hinting of a new technology that will be introduced in the house to check attendance and movements of MPs in the house.
"A machine will in future register the attendance of MPs automatically. This will be arranged, and I trust MPs will embrace it to set a good example to all Ghanaian workers."
–
By: Jonas Nyabor/citifmonline.com/Ghana
Follow @jnyabor