Goals from Mohammed Salah and Abdallah El-Said in each half dented Ghana's hopes of making it to the 2018 World Cup in Russia.
The result leaves the Black Stars five points behind group leaders Egypt with four games to play.
You would have expected Ghanaians, upset with the manner of the loss to the team that the Black Stars beat 7-3 on aggregate to reach the last World Cup, to take to social media to vent their spleen.
Not quite. It was not all anger on social media as quite a number of Ghanaians 'celebrated' Egypt's win.
Given the bad blood that clearly still exists following the team's disappointing showing in Brazil 2014,  they expressed their excitement at the possibility of the Black Stars not making the World Cup after qualifying for three successive tournaments.
Reasons ranged from the players being "cut down to size" to "state resources being saved".
Some fans took their fury out on the players and head coach Avram Grant, some felt the managers of the team for the dismal start to the qualifying campaign.
Take a look at some of the best reaction from social media.
Was feeling low until I heard the Black Stars didn't win.My spirit is delighted again.My God knows I can't bear another scandal. Hallelujah!

— Nana Ama Agyemang (@JustNanaAma) November 13, 2016
Kudos Black Stars. You lost but you've earned us the most important, DOLLARS!!!

— Iam$tyker® (@styker5) November 13, 2016
Hold on guys, let's lose our third game then we can celebrate #CitiSports

— DANKYI (@DankyiKrakye) November 13, 2016
The gap between Black Stars and Ghanaians keep widening match after match. That Brazil bruhaha was unfortunate and needless. #CitiSports

— BraEbow (@BraEbow) November 13, 2016
When de Black Stars play well, they lose; When they don't play well too, they lose. No hope,No encouraging bench. No WC #3sports #Citisports

— Acostik Dot Sport (@AcostikDotSport) November 13, 2016
Lord. Thank you for your wonderful works Continue to bless us and not allow the Black Stars to qualify. We no go do anything for Russia

— •Santi• (@md_kofi) November 13, 2016
We're all hoping they'll watch the world cup on TV like the rest of us. Not just the black stars; GFA, management committee and whoever.

— Kwesi (@ptnDennis) November 13, 2016
I just don't think i can be anymore optimistic about this Black Stars team. I will just be one of those who watch from afar. Et) mi ts)….

— Quofi Umtiti Digne (@TsatsuRenius) November 13, 2016
#CitiSports I Taught Arsenals was De only heartbreaking team in de world until I came in contact w/ de blackstars

— Prince Nortison (@RickStunna) November 13, 2016
@Citi973 The pharoahs just tortured us in Egypt. They hope to be the ones who will stop us from entering into the promise land. #CitiSports

— Prince Odechie (@podechie_) November 13, 2016
The playlist for the Black Stars tonite
1. Oko yi
2.Hy3br3 sesafo
Both by Obaapa Christy ?????
#CitiSports

— •Desmony• (@demens0915) November 13, 2016
So happy Black Stars lost. At least what happened in Brazil won't repeat itself again.

— Nana Osei (@Ougadzi) November 13, 2016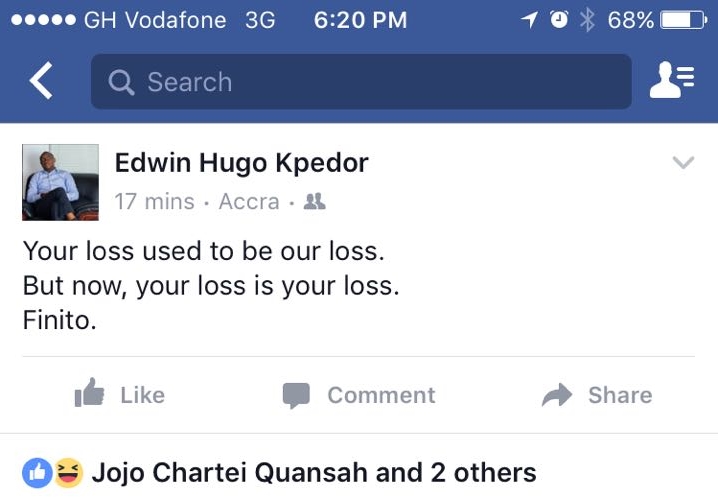 By: Edwin Kwakofi/citifmonline.com/Ghana