The Prime Minister of France, Manuel Valls on Sunday, October 30, 2016, visited and toured the factory of Cocoa Touton Processing Company (CTPC) at the Tema Free Zone Enclave, as part of a visit to Ghana and the sub-region to enhance bilateral relationships in West Africa.
The visit to CTPC's factory is a testament to the robust diplomatic ties between Ghana and France and consolidates the former's position as one of the most preferred destination for trade and investment on the African continent, due to its stable democracy, respect for the rule of law and an enabling business environment.
Dignitaries that graced the event included Mr Patrick De Boussac, Chief Executive Officer (CEO) of Touton Group, the Minister of Lands and Natural Resources, Nii Osah Mills, the French Ambassador to Ghana, H.E. Johanna Svanikier, among others.
The Touton Group is one of the world's largest traders in cocoa, coffee, vanilla, spices and a variety of natural ingredients, using a network of exporting subsidiaries.
In April 2015, the company crowned its over 40-year trade relations with Ghana, by investing in a multi-million Euro cocoa processing facility in the country, joining a select number of companies producing cocoa liquor for export globally.
In Ghana, Cocoa Touton Processing Company currently processes 30,000 tonnes of cocoa beans and exports to countries in Europe, USA and the Middle East with a turnover of USD 100,000,000.
The country's cocoa sector has for some time now been crippled with bottlenecks that had led to dwindling yields of cocoa farms and the emissions from deforestation and degradation.
The Touton group has therefore entered a partnership agreement with the government to devise a programme to address such discrepancies.
Dubbed the "Climate Smart Cocoa", the initiative is also to enable Ghana to maximise its cocoa production potential and increase the economic opportunities for forest fringe communities without compromising the integrity of existing forests.
Welcoming the French Prime Minister to the factory's premises, Chief Executive Officer of Touton Group, Patrick de Boussac said, "We signed a Memorandum of Understanding (MOU) with the Forestry Commission, which compliments the one signed with the CocoBod.
"It will immediately help us to increase the landscape programme and promote the network of our rural service network. I want to thank the Prime Minister for coming to our factory to keep himself abreast of our operations. Ghana is a very good country for investment. We, therefore, see this visit as a way to support our investment strategies in this country."
Patrick de Boussac also applauded the Ghanaian government and the Ghana Cocoa Board for their continued support and regular supply of cocoa beans, which has helped Touton maintain operations at optimum capacity since the facility was established.
French Prime Minister responded by saying "TOUTON is a French company that French citizens should know more about, as it is indeed at the forefront of the industry. I am delighted about the role Ghana is playing in the enhancement of the company's operations and pleased to have this opportunity to see its manufacturing process."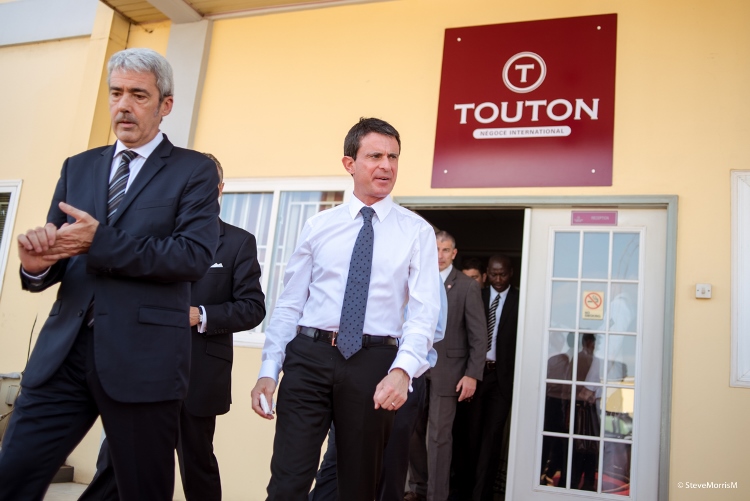 The Touton group took over an existing factory built in 2007 in April 2015 and became Cocoa Touton Processing Company. It currently has 135 employees.
Touton has entered into a tolling agreement with Cocoa Processing Company CPC whereby 25 000 tonnes of beans are processed into cocoa butter and cake. Touton delivers semi-finished cocoa products to worldwide chocolatiers in Europe, Americas and Asia.
Touton is also playing a very active role in the sustainable supply chain of cocoa through strong initiatives such as combating deforestation, training 15000 farmers, investing 10 million USD and implementing 6 Rural Service Centers to provide better access to raw materials, equipment and banking.
–
By: citifmonline.com/Ghana