The Electricity Company of Ghana ECG in the Western Region on Thursday took some 22 journalists from across the region through the operations of the company.
The exposure was to help journalists understand and appreciate the distribution business of the company.

According to the Western Regional Public relations officer of the ECG Philip Osei Bonsu, enhancing the capacity of the median on their operations "will help make our work more open and transparent to our customers."
"Journalist play crucial role in telling the stories of what our engineers do daily to ensure power in our homes and businesses. It helps clear some misconceptions as well. In the times of load shedding, some members of the public accused ECG engineers of maybe just sitting somewhere pressing knobs just to plunge people into darkness. That at least we have found is not possible."

The Regional manager of the ECG Ing Jacqueline Ofori-Atta urged journalists to seek clarification on issues of power they may not understand in order to get the correct information especially on power cuts "to enable the ECG to become the credible off taker we all wish to see."

The training which covered two parts; theory and practical started with the production stage of power by the Volta River Authority, [VRA] through transmission by the Ghana Grid Company [GRIDCo] and finally to the distribution activities done by the ECG before power reaches individual households and businesses in the region.
The Western Regional Engineer of ECG, Ing Ebenezer Ghunney explained the many webs of links and infrastructure that are in place from the power production source to the distribution end.
"After GRIDCo has transmitted power from the VRA source, we take it at our Bulk Distribution Stations. We then use our transformers to step down the high voltage along our distribution network until it gets to the 230 volts usable by our appliances."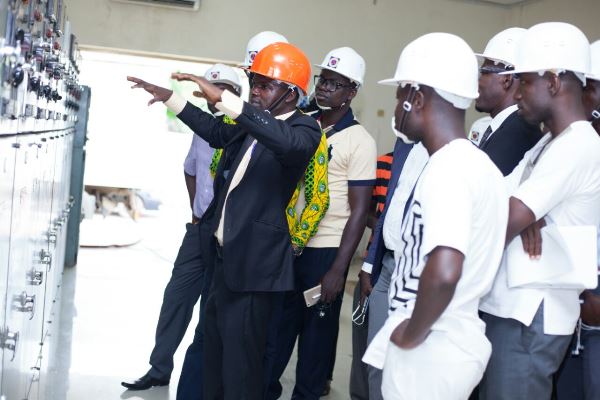 He also explained the many circumstances under which power has to be taken off to safeguard the infrastructure in place and to save lives.
The training ended after Ing. Ghunney and some technical men led the group to the Takoradi substation of the company to "demystify some myths on power distribution".
They explained how the physical network cables are inter-connected to ensure safety, supply and integrity of the infrastructure.

–
By: Obrempong Yaw Ampofo/citifmonline.com/Ghana