The Deputy Minister of Communications, Dr. Felix Kwakye Ofosu has described as illogical and false, assertions by the Progressive People's Party (PPP) that government is deliberately using the Economic and Organised Crime Office (EOCO) to frustrate its Flagbearer.
The party had accused governing National Democratic Congress of conducting a witch-hunt against its Flagbearer, Dr. Papa Kwesi Nduom and the party because their participation in this 2016 election is a threat to government.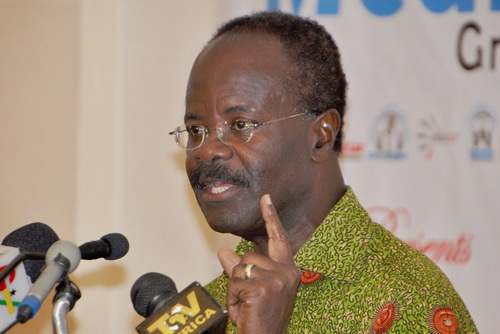 [contextly_sidebar id="x0301jMx8UumeKahBtbPoVMyQz2jamhB"]But Kwakye Ofosu in a rebuttal on Eyewitness News, dismissed these claims, saying "First of all, that charge is not only false, it is illogical and therefore must be dismissed. It is about time people take responsibility for their actions."
According to him, "state institutions have the mandate to carry out their work, therefore if any entity that is the subject of any investigation by a state agency believes that that state agency has acted in ways that are not consistent with the law, …there are legal remedies that can be pursued."
He believes it will be unfair to accuse government of frustrating the PPP Flagbearer since the "PPP does not pose any threat at all to government."
"The NDC that is in power has contested six elections and won four out of it. We are fairly able to wage a campaign and convince the people  to vote for us, irrespective of what any other political party does. Therefore this practice where small parties think that when the launch attacks on government, issues that they may have with one state agency or the other will assume a political coloration and therefore the real issues will be subdued is bound to fail."
He further clarified that government has over the years,not been interested in any matter relating to the PPP.
What did EOCO say?
EOCO in a letter dated October 21, 2016 and signed by the Executive Director of EOCO, Justice Tsar gave the flagbearer of the Progressive People's Party (PPP), Dr. Papa Kwesi Nduom and Hassan Ayariga of the All People's Congress (APC), up to Wednesday, October 26, to explain how they funded aspects of their political campaigns.
EOCO  want to interrogate the presidential aspirant of the All People's Congress, Hassan Ayariga over his claim that he had expended over $6 million dollars to procure vehicles, among other things for his campaign.
Dr Nduom of the PPP on the other hand is expected to explain to EOCO the source of the over GHc1.7 million he used to pay for his and that of the party's parliamentary candidates at the Electoral Commission (EC).
–
By: Marian Ansah/citifmonline.com/Ghana
Follow @EfeAnsah