The flagbearer of the Convention People's Party (CPP), Ivor Kobina Greenstreet has called on Ghanaians to reject the governing National Democratic Congress (NDC) and the New Patriotic Party(NPP) in the upcoming general elections.
According to him, the NDC and NPP have nothing good for Ghanaians except lies.
"We must bring back our dignity as a nation. A nation without dignity is susceptible to abuse and corruption and that is what we see before us today in all spheres of our nation's life. We are abused by our leaders who fail to care for our people and our society have become endemic to corruption. 24 years of the NDC and the NPP, 24 years of arguments, vindictiveness, rancor and darkness, it's okay. We have had enough."
"NDC and the NPP are the same; we have had enough of them. NDC and NPP merely continue to offer us what they've been offering us for 24 years and that is their greatest specialty; lie upon lie. And there is a special word to describe continues lies because continues lies is no longer is called a lie and that special word is mendacity," he added.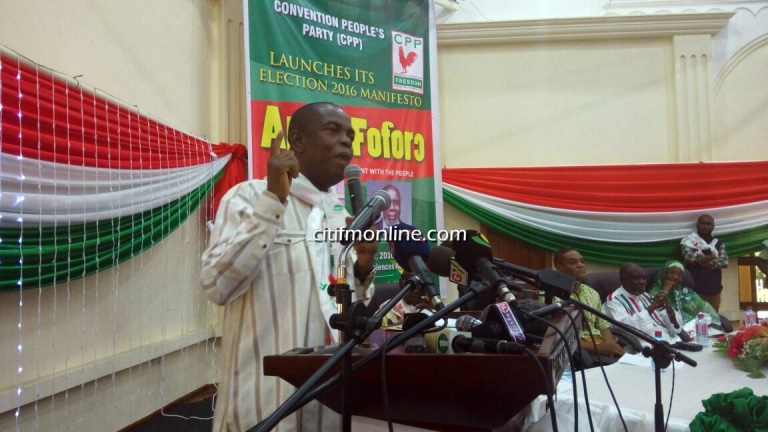 Mr. Greenstreet made the comment at the launch of the party's 2016 manifesto in Accra today, Saturday [October 29].
He urged Ghanaians to give CPP the opportunity on December 7 to restore Ghana's dignity begun by party founder, Osagyefo Dr. Kwame Nkrumah.
–
By: Godwin A. Allotey/citifmonline.com/Ghana
Follow @AlloteyGodwin

Photos by: Caleb Kudah