Some youth in the Northern Region have collectively called for peaceful elections through a peace march held in Tamale.
The event followed reports suggesting that the 2016 polls could be chaotic, particularly in the Northern Region, where several areas have been identified by police as hotspots.
Representatives of the various political parties, vigilante groups, students, actors and actresses, as well as civil society organizations participated in the peace event under the theme, "Ensuring peaceful elections in Ghana: make peace win."
It was organized by the Global Peace Ambassadors Network in collaboration with a Non Governmental Organization, the Centre for Active Learning and Integrated Development (CALID).
The peace crusaders carried placards with inscriptions such as "One Ghana, One people," "We are Ghanaians not warriors," "I stand for violence free elections" and "Peace begins with you."
Some of the peace Ambassadors in a Citi News interview said they were sick and tired of the chieftaincy, land, political and other related conflicts which have reversed the area's developmental agenda.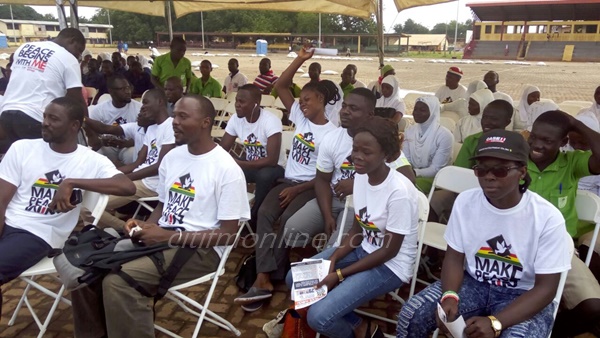 They called for peaceful co-existence to attract investors to create jobs for majority of the idling youth. They also admonished politicians to be decorous in their utterances by campaigning on issues of national importance.
They implored the Electoral Commission to be transparent in all processes leading to the December polls as a means of ensuring justice to promote peace.
According to them, Ghana must emerge more united after the December 7 polls to maintain her much touted accolade as the beacon of democracy in Africa.
The Global Peace Ambassadors Platform in a statement stated that, "Beyond our political opinions and preferences, we believe in Ghana first so we are appealing to all candidates and supporters to share our beliefs and make peace win come December 7, 2016."
"This campaign for peaceful elections is led by the youth because the youth of Ghana and beyond are often tagged as perpetrators of violence and crimes of all kinds and we the global peace ambassadors believe the time has come for the youth to demystify this perception by serving as change agents and pathfinders."
The statement further noted that, "We want to protect our growing democracy and the vulnerable in society from acts of violence by creating an enabling atmosphere for all to exercise their free and voting power in the upcoming elections. We as peace ambassadors believe that, peace begins with the individual, peace is a collective responsibility and we believe that without your voice and commitment, a peaceful election and process cannot be achieved."
Executive Director of the Centre for Active Learning and Integrated Development (CALID), Sumani Mohammed, said the peace march was  part of peace campaigns lined up for execution in the Northern Region ahead of the December 7 polls.
He appealed to the electorate in the Northern Region to embrace dialogue as the panacea to solving their differences. He urged the youth to shun politicians who usually use them to foment trouble during elections for their selfish gains.
Sumani Mohammed called for deeper collaboration among all the major stakeholders in the electoral processes to ensure violence free elections.
The Northern Region is noted for chieftaincy, land, political and other related conflicts.
FOSDA early warning signal
The Foundation for Security Development in Africa, FOSDA, a Non-Governmental Organization, in its latest report on the 2016 polls, said indicators that led to violence in some African countries are rife in Ghana.
It noted that, internationally, Ghana's Democracy which can be described as a matured democracy by all standards still has indicators that led to violence in some countries.
FOSDA attributed the situation to the use of intemperate language by some desperate politicians.
–
By: Abdul Karim Naatogmah/citifmonline.com/Ghana