The opposition New Patriotic Party (NPP) has launched the Dombo Youth Association in the Northern Region with a call on President John Dramani Mahama to stop attacking Nana Addo Dankwa Akufo Addo's personality.
President Mahama on his campaign tour of the Northern Region described the NPP's Presidential nominee as a dictator and a divisive leader.
The President's conduct, according to the Dombo Youth Association's Chairman, Fuseini Abdul Majeed is un-presidential.
Fuseini Abdul Majeed in a Citi News interview on the sidelines served notice the association's members will in equal measure attack President Mahama's personality if continues to slur Nana Akufo Addo.
He challenged President Mahama to conduct issues based campaigns and stop what he described as his diversionary tactics.
"What we are trying to put across is a word of caution that if the President does not want this year's election campaigns to be clean and he is going in the line that he is taking it, we are listening and Ghanaians have listened to the past statements he has made and the dirty game he has started playing against our flag bearer."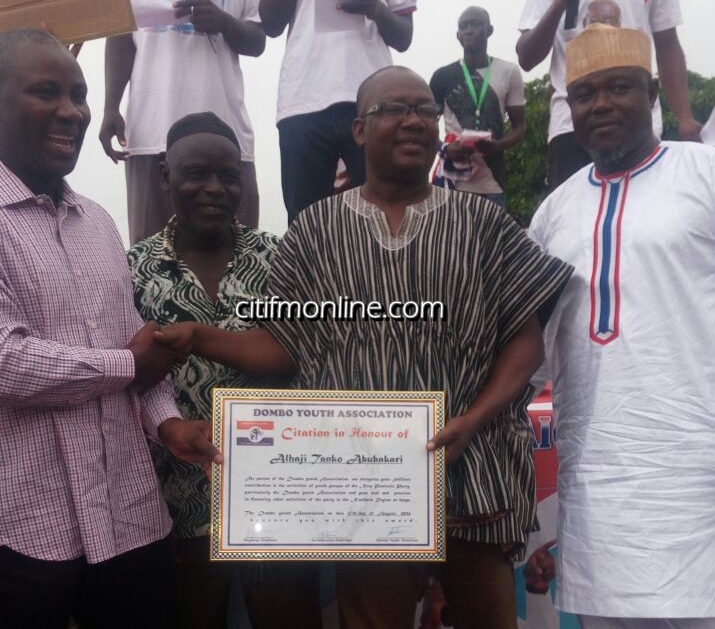 "We are sending a word of caution that if he does not stop attacking the personality of Nana Addo Dankwa Akufo Addo and go to talk about issues that pertain to the development of this nation: Issues having to do with youth unemployment, corruption and things that go to affect the development of this nation and decides to continue to attack the personality of individuals instead of talking to the issues, we the Dombo youth members are going to take him to the gutters to make sure that people will see everything in his anus that he is covering that is affecting Ghanaians."
Fuseini Abdul Majeed implied that President Mahama has failed the nation and does not deserve a second term.
"We are going to let Ghanaians especially those in this part of the country to get to remember since he told us that we have short memories that we don't have short memories."
"We are going to show him that Ghanaians are great thinkers. We are going to remind people about the SADA issue, the GYEEDA issue and the Dumsor that has made thousands of people to lose their jobs."
Fuseini Abdul Majeed rubbished the NDC's changing lives slogan saying, "Consequent of the draconian tactics of the NDC government and their wicked ways of ruling this country shadow of hardship and suffering starring from their individual attitude of selfish and corrupt ways of leadership."
"Ghanaians should remind the NDC that we still remember all the public funds that have been mismanaged and stolen or shared in the name of infrastructure, SADA, GYEEDA, Metro Mass branding, Judgment debts, the World Cup in Brazil and others."

Follow the hashtag #GhElections on Social Media for election related stories
–
By: Abdul Karim Naatogmah/citifmonline.com/Ghana