Citi 97.3 FM, has emerged Ghana's topmost English Radio station in GeoPoll's second quarter survey of radio stations' performance nationwide.
GeoPoll, which also rates the performance of television stations and print media, also said that nationally, "Citi FM is consistently third, followed by Joy FM which averages fourth."
Top Radio Stations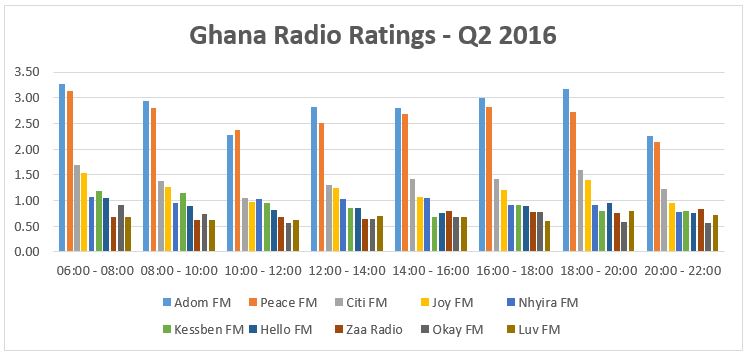 The graph above shows that, Adom FM and Peace FM, lead in ratings at the national level.
"Citi FM is consistently third, followed by Joy FM which averages fourth. Adom FM achieves its highest rating between 6-8 AM with an average rating of 3.27 nationally."
Top TV Stations
The graph above shows that, TV3 continues to lead in ratings from 7 to 8pm. UTV then owns the highest ratings from 8 to 9pm. From 9-10pm, TV3 slightly edges out UTV, averaging a 4.54 rating. The highest average rating during primetime is UTV between 8:30-9pm with a rating of 5.86. Adom TV is consistently in 3rd place during primetime, while holding 2nd between 7:30-8pm, outperforming UTV.
To get a complete breakdown of Ghana media data, including ratings by region, day-by-day data in 30 minute time blocks for TV and 2 hours for radio, and filtering by demographics and psychographics, please click here to subscribe or see a demo of Kantar GeoPoll Media Measurement.
About GeoPoll
GeoPoll, is one of the largest providers of overnight audience measurement data in Africa.
In December 2015, GeoPoll partnered with the Ghana Independent Broadcasters Association (GIBA), in a move that will allow all GIBA members to access GeoPoll and Kantar Media's industry-leading audience data.
Kantar-GeoPoll Media Measurement is the only provider of next-day ratings for TV, radio, and print in Ghana and this partnership will give all GIBA members access to KGMM's quarterly ratings data.
The partnership means that, media organizations which hitherto relied on data from various data organizations will now be using data from GeoPoll.
Such data is often the basis for advertisers' preference on which media platform to advertise their products and services.
–
By: Ebenezer Afanyi Dadzie/citifmonline.com/Ghana
Follow @AfanyiDadzie