The Electoral Commission's (EC) 21-day exhibition exercise which started last week, is suffering yet another setback as officials managing the exercise, have been forced to periodically abandon their posts.
Left at the mercy of the weather, officials have had to seek for shelter for themselves and their equipment whenever it rains.
At most of the exhibition centers in the capital, Accra, the entire process is carried out on one plastic table and two chairs placed in open air.
Speaking to Citi News, the frustrated officials who feared the worse for the machines, said they will not bear the cost of any equipment destroyed by the rains since all efforts to get the Electoral Commission to come to their aid had proved futile.
"I am not sure the Electoral Commission can even hold me and my colleagues responsible because the condition they have put us in gives room for some of these things to happen. I called my supervisor from the EC to tell him what we were facing here and he said I should find myself a place to stand for the meantime and set up again when the rain stops. How can we be told that?' one exhibition officer told Citi News.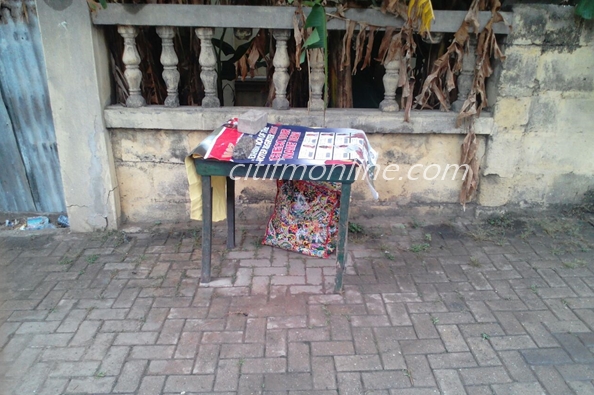 Last week, officials of the Commission handling the voter exhibition exercise, raised concerns about allowances being paid them for which they threatened to demonstrate.
At some other centers in Adabraka, officials called for the needed logistics to be made available so they can execute their mandate.
"They told us they will be bringing us logistics, but we have realized that won't happen. Even this morning when we came, the owner of the table we were using has come for it and the tent is now being used by the owner. We had to go for someone's table again. We are in the rain; I have just packed the equipment and am hiding inside someone's shop, which is very bad. There are mobile canopies around, ones that you can just dismantle and fix anywhere. We can be provided with such canopies."
The success of the voter exhibition exercise is hinged on the integrity of machines and other equipment being used.
However, the safety of these equipment cannot be guaranteed as most of the exhibition centers lack the appropriate shelter to protect both the equipment and personnel.
–
By: Felicia Osei & Kwame Botchway/citifmonline.com/Ghana