Fourteen politicians in the Pacific island nation of Vanuatu have been handed jail sentences for corruption.
The members of parliament were convicted of bribery on 9 October, when President Baldwin Lonsdale was abroad.
In his absence, Parliamentary Speaker Marcellino Pipite used his powers as acting president to pardon himself and the others.
On his return the president overturned the pardons, and the Supreme Court has now ruled them unconstitutional.
The verdict puts half the governing party's MPs behind bars and makes it likely another election will be called, despite the current administration only taking power in June, according to New Zealand's TVNZ.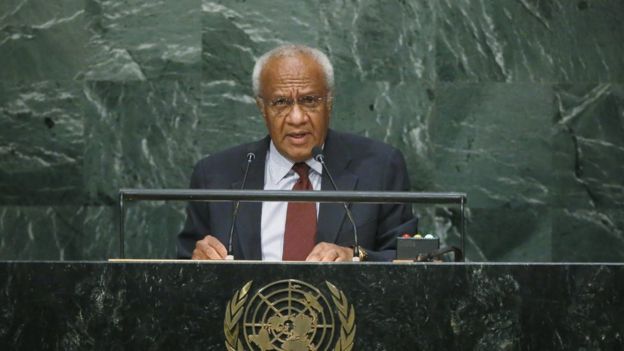 The original corruption allegations were that Deputy Prime Minister Moana Carcasses paid 13 opposition politicians 35 million vatu ($312,000; £202,000) last year.
On Thursday, Mr Carcasses was sentenced to four years in prison, and the others for three years each.
Justice Mary Sey, in the capital, Port Vila, said the payments were made to influence the MPs.
Those who "occupy a position of trust or authority can expect to be treated severely by the criminal law," she said, according to Australia's ABC News.
As well as the deputy prime minister, many of the other convicted MPs were also cabinet ministers, including the Foreign Minister Serge Vohor and Finance Minister Willy Jimmy.
Willy Jimmy was given a 20-month suspended sentence, as the only one to plead guilty at his original bribery trial.
Sentencing for the original corruption offences was due to happen on 22 October, so it is not clear whether the ruling that the pardons were unconstitutional affected their jail terms.
–
Source: BBC