The celebrities who organized the Dumsor vigil last Saturday say the mission for the protest was accomplished.
"The goals of the vigil were largely accomplished. It raised awareness about the negative impact of the crisis and showed citizens that the constitution of Ghana accords them the right to let their voices be heard, and empowers them to do so," a statement from the celebrities said.
Some celebrities led by Yvonne Nelson, led over thousands of Ghanaians to protest what they describe as the worsening power crisis in the country.
According to them, one of the most important aims that the vigil sought to achieve was for Ghanaians not to accept the current power crisis as the "norm" stating that the objective "ultimately achieved."
"For many of the celebrities and participants, the vigil was a personal, re-awakening of their civic consciousness, and they will be more engaged in civic affairs going forward."
"For some people, it was the  first time they had joined civic activity such as this, and it was empowering and encouraging for them to see that others were also tired of the current situation and they could unite in letting their sufferings be known. Thus, it cured some of the sense of helplessness or hopelessness they may feel, as a result of the economic downturn and the current energy crisis."
According to the statement, some people outside of the Greater Accra Region have requested similar vigils in their regions, adding that "this shows the value of standing for a good cause and empowering others to feel their days of voicelessness are over."
"Perhaps in the future, there may be more events that will empower people to speak up; more events that focus on civic education that teaches citizens about their rights and responsibilities in making Ghana "great and strong." Perhaps the next initiative will not come from celebrities, but from other groups in society, who are also convinced that Ghana can be better, and it will take everyone's effort to make it so," the statement added.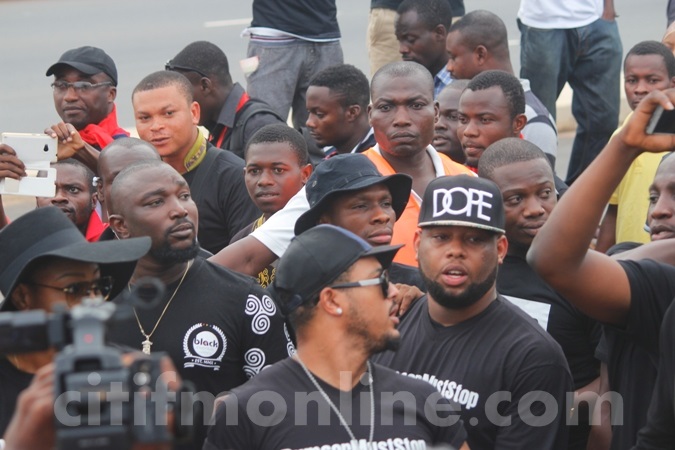 Below are excerpts from the statement: 
It showed Ghanaians as people who have a civic awareness/consciousness that hitherto may have been dead or dormant at best. It showed that Ghanaians are willing to get engaged as citizens in the midst of this current crisis because they are directly affected by it, and are willing to exercise their constitutional right to speak their minds, rather than suffer in silence. It showed that in unity, any group of citizens can take up a cause, and once it resonates, they will come together to make their voices heard. It was encouraging to see the solidarity exhibited, and to see Ghanaians from all walks of life move from sitting on the fence to becoming active participants in matters that concern them.
On the other hand, there were also some reactions to the vigil that point to a dangerous trend where anyone who dares to express dissatisfaction with the status quo, and says anything that is indeed an expression of their reality, is branded as anti-government and belonging to the political opposition.
The insults and derogatory comments made by public officials, directed toward people who speak up about  sufferings in these times is worrying, and creates a dangerous context, where freedom of speech is muzzled by verbal assault, from people whose first priority is to serve ALL, and take people's concerns seriously. When government officials and institutions choose to dissociate themselves from media houses, civil society actors or individuals because they speak their 'reality', it is a painful reminder for
Ghanaians, of an era past, where people were silenced for speaking up. We hope that public officials will review their mandate to 'serve' the people as "public servants", and endeavor to take the complaints of the citizens seriously and act upon them to improve the lives of ALL.
Some of these people refused to be calmed down, as they angrily shared stories of how dumsor has threatened or taken away their livelihoods, destroyed equipment and increased stress on families.
The proper handling of communication during this crisis is extremely important in ensuring the peace and stability that the nation has always enjoyed.
–
By: Godwin Akweiteh Allotey/citifmonline.com/Ghana
Follow @AlloteyGodwin