Pope Francis is set to receive Cuban President Raul Castro in a private audience at the Vatican.
The Argentine Pope played a key role in a recent diplomatic rapprochement between the United States and Cuba.
President Castro, who is stopping off as he returns from Russia's WW2 Victory Day parade, wishes to thank the Pope for his help, Vatican radio says.
The Roman Catholic Church has maintained relations with Havana since the 1959 revolution.
The Pope will visit Cuba on his way to the United States in September.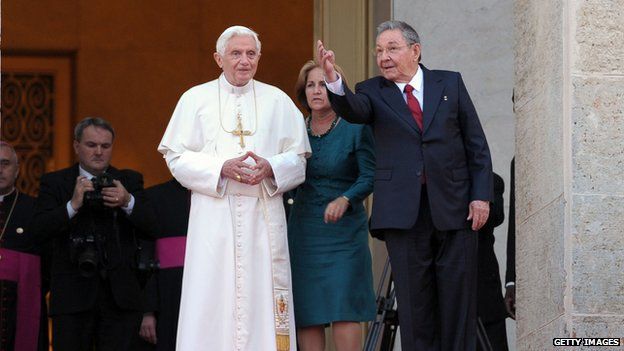 In 1996, Pope John Paul II became the first Pope to receive a Cuban leader when Fidel Castro travelled to the Vatican.
President Castro, the brother of Fidel, was last in Rome in 1997 when he was defence minister. At the time he was preparing the historic visit of John Paul II to Havana the following year.
The Catholic Church has organised a series of secret diplomatic meetings to broker the US-Cuban rapprochement.
The talks directly involved Pope Francis. The US had imposed a trade embargo soon after Cuba's revolution, which it began to lift late last year.
The 78-year-old will be the third Pope to travel to Cuba, following visits there by John Paul II in 1998 and Benedict XVI in 2012.
Source: BBC