Over the past few weeks, Ghanaians have been debating the government of Ghana's defence cooperation agreement with the United States.
Under the agreement, Ghana will among other things host some US troops as well as give them free access to Ghana's radio spectrum.
[contextly_sidebar id="PQStOcRx8tLoDbohfnlUFaxqLl8Cky2C"]They will also be given unhindered access to some of the country's key military installations, but many Ghanaians, including pressure groups, have kicked against it, arguing that given the clauses, Ghana would be indirectly selling its sovereignty to the US.
Both the Government and the US Embassy in Ghana have both attempted to provide some clarity on the matter, saying Ghana will not permanently host  the US troops.
Despite these explanations, opposition parties last week organised a protest against the deal, insisting on a change of some of the clauses which may infringe on Ghana's sovereignty.
Thus, some Ghanaians have taken to Twitter to seek more answers from the US embassy account on the app.
Read the exchange below:
Twitter user, Salifu Saaka Mahamud asked, "The US Ambassador was asked this question of permanency stay of US troops in Ghana by Joy FM and many media outlets in Ghana and he could not tell how long they were going to stay in Ghana. So what are they talking about?"
In the Embassy's response, it said,
Another Twitter user said,
"…Ghanaian Authorities don't have any right to prosecute any US Military Officer if he or she commits a crime in Ghana. 4. Tax-free to import and export 5. They can use our radio spectrum for free 6. Ghanaian Authorities don't have any right to inspect whatever they do in Ghana…"
The response of the Embassy was;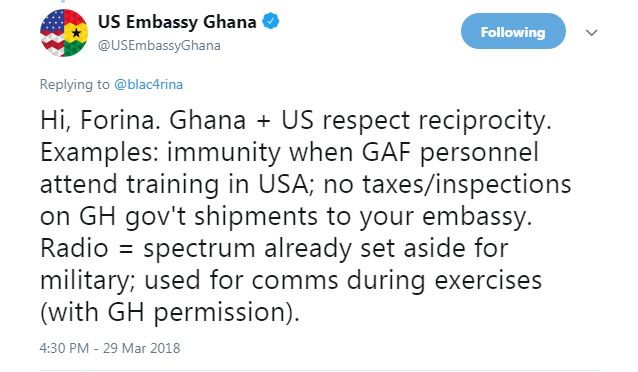 In response to Yao Noah Nash's question, "Why is it in the agreement that things shipped to #Ghana can't be checked and soldiers can't check. Can we do that in [your] country?. Why ask for frequency if [you] are here for training of Ghanaian soldiers like [you] said. I smell [a] rat."
The Embassy said:
"Import and export without inspection of our immigration officials. This is a total mockery of our immigration laws. Only God knows what they will import," Kamassah Richlove tweeted at the Embassy.
For its response, the Embassy said:
The Embassy's other responses to provide clarity on the agreement are as follows: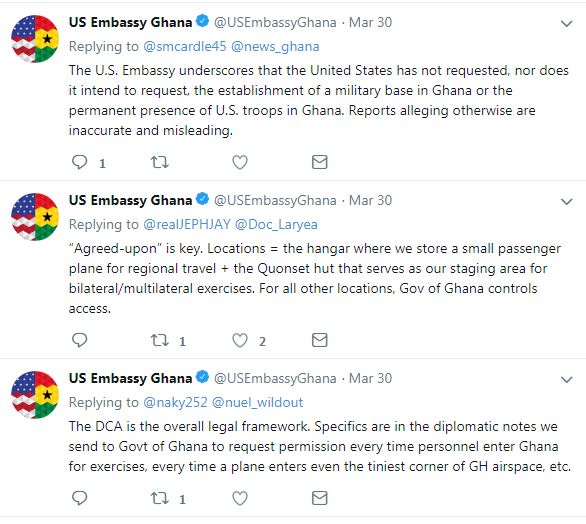 –
By: Jonas Nyabor/citifmonline.com/Ghana