I have a growing intimacy for travelling, and especially for great road trips, indeed if travelling were free, I bet you would never see me again.
For me, there is nothing more appealing than the wonderful memories of a great road trip of a lifetime.
It was therefore not surprising to learn that as far back as 1888, the inventor Karl and her wife Bertha Benz would take frequent road trips even in the then phase of global road development.
Today, around the world, the statistics of road trips are increasingly thrilling.
Presently in Ghana, one cannot mention the thrills of road trips and obliterate the stories from the 'Citi FM's Heritage Caravan'.
The Citi FM Heritage Caravan is an annual road trip that gives a rare opportunity to tourism enthusiasts to experience and discover Ghana.
Personally, this year's road-trip makes for me the second count of a super exciting journey across Ghana, and in the company of amazing patrons who were bent-on touring Ghana in a seven (7) – day "See Ghana" road trip.
Indeed, "Good company in a journey makes the way seem shorter." —Izaak Walton
I had signed up, and was getting all set-to-go, with tickling emotions! Packing became the unloved part. As a traveller, travelling light is my thing.
I became my own mum, I ordered myself around, got a few items for my trip, packed and unpacked a few more, and like the Spanish proverb "on a long journey even a straw weighs heavy" it becomes funny when the thought of all the "Just-in-case" essentials translates into a heavy load (only travellers would understand this).
I just couldn't wait for a day to break, in fact, I had returned from the pre-trip concert at the Alisa Hotel and up, ready to "See Ghana!" Sunday, 4th March 2018 was the starting line for the 2018 trip, and in the words of Charles Warner "There is no moment of delight in any pilgrimage like its beginning."
It is said that "a traveller without observation is a bird without wings."
Ghana, as I observe, has an incredible countryside topography and an appealing aesthetic outlook which is best explored through inland travels, and that is exactly what I experienced on the Heritage Caravan! The many breathtaking sights across Ghana. I said to myself, this Country is really resourcefully big, lots to see, and more miles unseen.
"Like all great travellers, I have seen more than I remember, and remember more than I have seen." – Benjamin Disraeli.
Covering 2,620 kilometres by road is sure an adventure for me!
My goal apart from making travel buddies was to better understand the culture of natives at each destination and their unique way of life, and the special stories as I visit as many attraction sights and explore the unknown.
For me, road trips are just perfect opportunities to forget about all my worlds' worries, escape from the small busy capital city to see the sun rise and set in different regions of Ghana.
It was day one; our journey began in Accra at 10am. We had two Intercity Coaches STC buses for the trip, they were tagged bus A and B.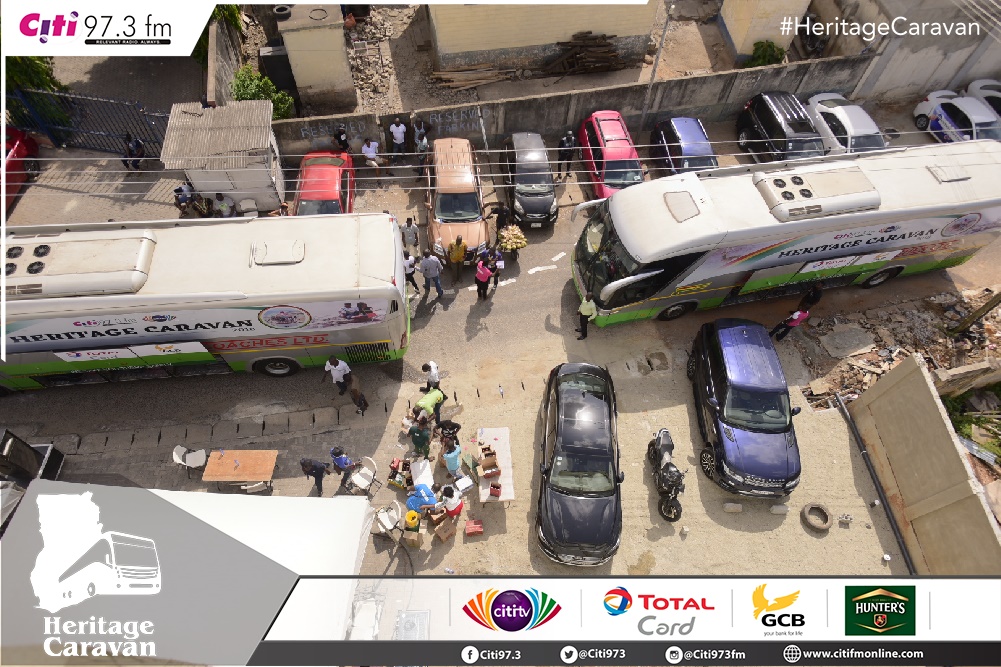 I made myself comfortable in Bus B in my little one corner as we rode towards Colonial Accra, driving along the Coast through Accra central all the way to Sesemi Museum within Accra's Abokobi township.
Sesemi is a very religious town with notable Presbyterian Church buildings and that of no other denominations or churches are seen here. This is said to be so because the township was founded by the Basil Missionary in the mid centuries. It was also said that, before one becomes a chief in Abokobi, he must be a Christian priest.
Thus, the Chief of Abokobi does not pour traditional libation and once a while he must preach at the main Presbyterian Church. Interestingly, certain habits and attitudes such as drinking or operating a drinking bar are also said to be highly prohibited in the town.
On arrival at Sesemi Museum, close to Abokobi, I saw an overview of the site that shows Fredericksgave plantation settlements, the slaves' village of Djabina and fines from the olden days that were used to trade and housing for the slaves.
From Sesemi museum and along the Akuapem mountains, we headed straight to the land of  Agotime, in the Volta Region. On reaching Agotime, we stopped at one of the towns called "wodome" which means middle in the Ewe language. The "Wodome" town is divided between Ghana and Togo.
Part of the town is in Ghana and the other part is in Togo. The division of the town is narrated to be done by the "white men" of the olden days, but regardless of the physical boundaries, the natives of the town believe that they are inseparably one people. The bus then continued to Agotime Kpetoe, welcomed by a Durbur of Chiefs, traditional elders and people of Agotime Kpetoe.
Here, many of the patrons had their feets washed before greeting the Durbar of Chiefs in a traditional practice called the "Asialotome" – rite, a practice performed whenever visitors are to be received. The maidens will go to the riverside to fetch water and wash the feet of visitors as a way of welcoming them.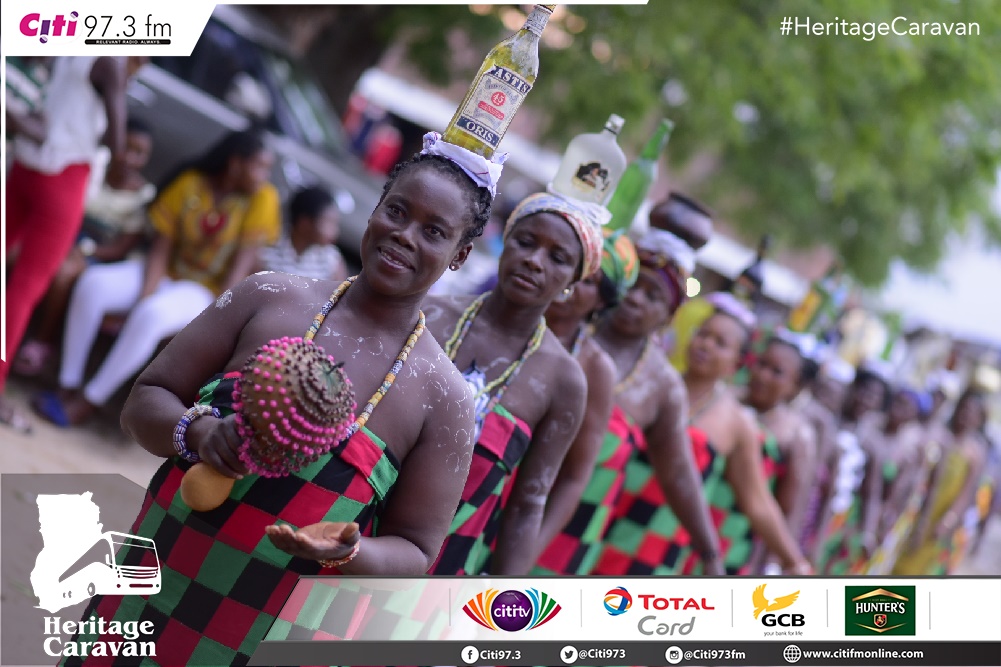 I was very happy to be in the midst of such royal entourage, in what can be best described as a majestic atmosphere with the traditional Chiefs and their Elders clad in royal regalia, displaying the richness of the Ewe tradition with their colourful Ewe woven kente adorned with glittering real gold ornaments! It was indeed a magnificent sight to behold to "See Ghana" and enjoy Ghana!
Indeed, "No one realizes how beautiful it is to travel until he comes home and rests his head on his old, familiar pillow." — Lin Yutang
Having enjoyed the thrilling Kente Weaving Festival intertwined with a showcase of the magnificent Borbor dance, the wheels of the Heritage Caravan emotionally left the fascinating thrills and exceptional people of Agotime Kpetoe behind us, as we drove on, listening to a playlist of fine popular tunes of good music, fun-blasting it in the bus as if we had no worries about nothing in the world aside locating the next gas station. Truly "a journey is best measured in friends, rather than miles." — Tim Cahill
Upon refuelling, our next stop would be the sights of the impressively famous Kingdom of Gold and the incredible Menhyia Palace within the Ashanti region!
"We live in a wonderful world that is full of beauty, charm, and adventure. There is no end to the adventures we can have if only we seek them with our eyes open."     — Jawaharlal Nehru
Heritage Caravan Day 1 @ Frederiksgave Plantation
Patrons Look Forward to Next Heritage Caravan
To be continued…
–
Author: Makafui Seshie
Writer's blog: makafuiseshie.wordpress.com
Photos by Nii Darku