Seven workers of Gold Fields Ghana Limited have been arrested following a demonstration on Monday morning.
The demonstrating workers blocked all access to the Tarkwa mine, preventing other staff from going to work.
[contextly_sidebar id="btPajxSEgerCAz5K7MvZDpDcWtNBswXf"]A joint police and military force had to fire tear gas to disperse the crowd.
The workers are protesting management's decision to opt for contract mining, which is expected to result in huge retrenchments.
This was after an Accra High Court dismissed an injunction application filed by the Ghana Mine Workers Union to stop Goldfields from switching to contract mining.
The union argued that about 1,500 workers would lose their jobs if the company is allowed to switch from owner mining to contract mining, but the High Court dismissed the application.
Speaking to Citi News, the Deputy General Secretary of the Mine Workers Union, Abdul-Moomin Gbana, said the demonstration was suspended following the arrest.
"We left this morning, numbering over 100, and our plan was to demonstrate to Gold Fields management our displeasure and disappointment at the atrocities visited upon us."
"So in the process, we were accosted by armed military officers and some police officers. They started firing tear gas. One of the military men used his gun to hit the head of one of the workers," Abdul-Moomin claimed.
About four persons reportedly left the demonstration with serious injuries after the confrontation with the security personnel.
They are said to be at the Tarkwa Government Hospital receiving treatment.
At least one other person is alleged to have sustained injuries from rubber bullets.
Protest from township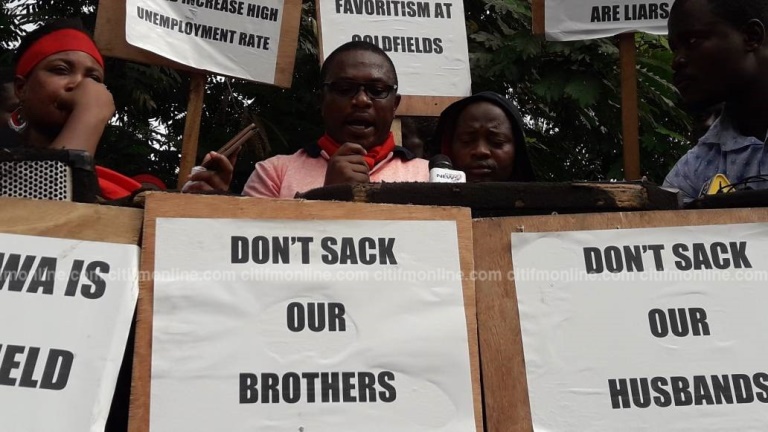 Residents of Tarkwa on January 19, took to some principal streets of the town to protest against the decision by Gold Fields Ghana to shift from ownership mining to contract mining.
The leadership of the demonstrators accused Gold Fields of shortchanging the country after receiving juicy packages from the previous administration in the spirit of expanding its operations to employ more of the teeming youth, as a result of the ban on small-scale illegal mining.
–
By: Jessica Ayorkor Aryee/citifmonline.com/Ghana