South Africa's President Jacob Zuma has defied his party and refused to step down, according to media reports.
He and senior members of the African National Congress (ANC) held talks on Sunday but no details of their meeting have been released.
Facing corruption allegations, Mr Zuma was replaced as ANC leader in December.
Party leaders, who may be trying to oust Mr Zuma before his State of the Nation address later this week, will hold an emergency meeting on Monday.
Mr Zuma, who spent time in prison for his part in the fight against apartheid, is most of the way through his second – and last – term as president.
Julius Malema, an opposition leader and former ANC member, said on Twitter that Mr Zuma had been asked to stand down but had refused.
Why does the ANC want to remove him?
Mr Zuma's presidency has been overshadowed by allegations of corruption.
In recent years his links to the wealthy-Indian born Gupta family, who are alleged to have influenced the government through their relationship with Mr Zuma, have caused his popularity to plummet. In South Africa, it has become known as "state capture".
Both Mr Zuma and the Guptas deny the allegations.
Then there is also the country's struggling economy, which has been adversely affected by political infighting in recent years.
As a result, many in the ANC fear his presidency has become toxic – and is hurting the party's standing.
That appeared to be borne out at the 2016 local elections, when the ANC lost ground to the opposition Democratic Alliance (DA) and Economic Freedom Fighters (EFF).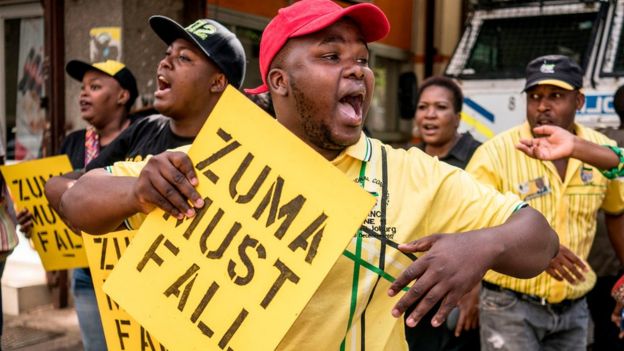 With a general election set for 2019, the ANC will be keen to distance itself from any more negative press – and therefore it is perhaps not surprising that Mr Zuma's deputy, Cyril Ramaphosa, was elected the party leader in South Africa in December on an anti-corruption platform.
However, Mr Zuma still has his supporters within the ANC – including three of the top six – so nothing is definite.
What are the allegations against him?
2005: Charged with corruption over multi-billion dollar 1999 arms deal – charges dropped shortly before he becomes president in 2009
2016: Court orders he should be charged with 786 counts of corruption over the deal
2005: Charged with raping family friend – acquitted in 2006
2016: Court rules he breached his oath of office by using government money to upgrade private home in Nkandla – he has repaid the money
2017: South Africa's public protector said he should appoint judge-led inquiry into allegations he profiteered from relationship with wealthy Gupta family – he denies allegations, as have the Guptas
2018: Zuma approves inquiry
What happens next?
Monday's emergency meeting brings together the ANC's National Working Committee, made up of 20 people, who will hear a report back from the weekend's meeting with the party leadership.
Depending on what they decide, they could then call a meeting of the 80-member National Executive Committee (NEC) in order to vote on whether to recall Mr Zuma.
However, if they do recall him Mr Zuma still has to agree to resign, as his predecessor Thabo Mbeki did.
Could Zuma follow Mugabe out the door?
Milton Nkosi, BBC News, Johannesburg
President Jacob Zuma's days are now numbered.
Many here in South Africa are saying it is no longer a matter of if, but when, he will go.
Although, it seems that the deep divisions which existed within the ANC ahead of the elective conference last December still prevail.
There was a lot of talk about unity under the new party leader, Cyril Ramaphosa.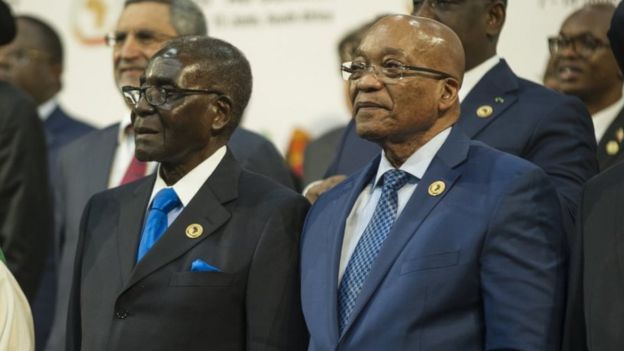 But unity in the ANC is becoming like a mirage. Those who support Mr Zuma want him to complete his term next year, as stipulated by the constitution.
But those who have been complaining about the long list of corruption allegations want him to leave, now.
Pressure is also mounting from outside the ANC.
The opposition Economic Freedom Fighters (EFF) are considering going to court to prevent Mr Zuma from presenting the annual State of the Nation address on Thursday. And they are also threatening to propose a motion of no-confidence before the president addresses the nation.
Many in South Africa are thinking back to November last year, when members of the ruling party in neighbouring Zimbabwe told then President Robert Mugabe to step down. He too refused – at first.
Many people – from opposition leaders to those within his own party – are calling for him to stand down before Thursday's State of the Nation address. Whether or not this is possible in the timeframe is unclear, but there will no doubt be concerns about what he might say if he is given the podium.
Even if Mr Zuma survives the week, he may not survive the month: A no-confidence motion has been brought by the EFF, and will be heard in parliament on 22 February.
But every move the ANC makes will be made with an eye on the 2019 election – and a split within the party would make it more difficult to win support.
ANC chairman Gwede Mantashe said he wanted to ensure "stability in the country and stability in the ANC."
–
Source: BBC