A Deputy Information Minister, Kojo Oppong Nkrumah, has indicated that the University of Ghana and the Ministry of Health have ended the tussle over the management of the $217 million University of Ghana Medical Centre.
Mr. Oppong Nkrumah revealed that, the two parties, have now agreed on a road-map, which will be announced later this week.
"That standoff [between the University of Ghana and the Ministry of Health], as I speak to you, is being resolved. Between the University and the Health Ministry, they have come to an agreement on a new management approach."
The deputy minister added that, "before the end of this week, there will be an announcement on the way forward."
Mr. Oppong Nkrumah stressed the need for rationalization process on not only the UG Medical Centre, but other medical facilities at various stages of completion that have been found to be lying idle or abandoned for various reasons.
He said the government was looking at the administrative coordination processes that went into these medical projects by different agencies.
"There is the bigger question of how we are rationalizing what various government agencies are doing. Even if you go beyond this specific hospitals matter, you find instances where multiple agencies are trying to do the same thing over and over again, where if the resources were put together and routed through a single agency, then you could have completion in some of them and get the results that you are looking for."
But in the case of the University of Ghana Medical Centre, Mr. Oppong Nkrumah again assured that, "before the end of this week, they should come to a completion of that rationalization process, and be able to tell the nation, so it is going somewhere and once they are done, I am hopeful that they will tell all of us where they are."
Background
The UG Medical Centre, which has its first phase completed and ready to commence operations, was inaugurated by former President John Mahama in 2016.
The facility has been idle since the commissioning of its first phase in January 2017, because authorities of the University are at odds with the Health Ministry on who should manage the facility.
Whereas the University believes processes leading to the construction of the facility gives it a direct oversight role of the Medical Centre, the current Ministry of Health under the Akufo-Addo government thinks otherwise.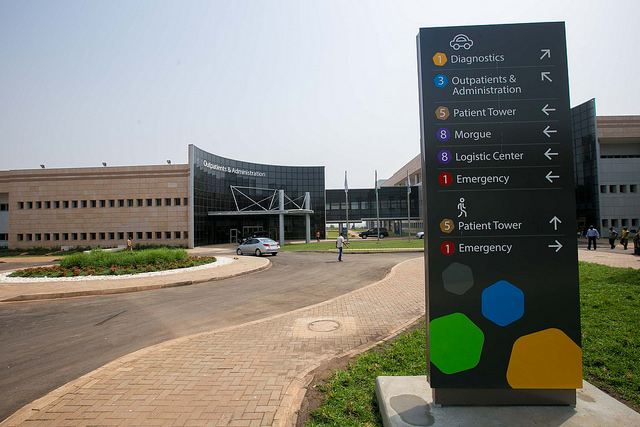 A Deputy Minister of Health, Kingsley Aboagye Gyedu, had earlier said government currently needs about $6 million to make the facility operational, and an additional $50 million to complete the phase two of the project.
Fight for UG Medical centre
The immediate past Vice Chancellor of the University of Ghana, Professor Ernest Aryeetey, has also charged the current university administration to fight to ensure that they have overall control of the Medical Centre.
"The University needs to stand up and fight for what is rightfully its property," he noted in a Citi News interview.
–
By: Delali Adogla-Bessa/citifmonline.com/Ghana