President Akufo-Addo wants German authorities to treat African migrants humanely.  The President says though migrants may offend German laws, they should be treated with respect.
''We are aware much of the success of post-German re-construction was done by migrants and we expect that in moving forward Germany will treat migrants humanely,'' he said.
[contextly_sidebar id="AsNLho5E9PvmSu8waeZSK5SyMP8SWQYw"]Speaking at the 5th German-African Economic Forum in Dortmund Germany under the theme ''African Markets, Potential and Opportunities for German Businesses'', President Akufo Addo said: "there is a lot of opportunity for German capital, technology and enterprise in Africa, and we welcome companies to participate in the exceptional opportunities that exist on the continent.''
President Akufo Addo also urged his colleague African leaders to diversify agriculture in order to make it a more attractive venture for the youth on the continent.
''We have a duty to make things work for our youth, let's modernize agriculture to attract the youth," he added.
Nana Akufo-Addo, at an earlier event, spoke of the need for Africa to improve the conditions on the continent that will enable the youth to thrive and not seek greener pastures in Europe.
He stated that given the innate need young individuals have to succeed, "there will always be those amongst our young people, who would want to try their luck in foreign countries."
He however noted that with the requisite skills acquired through education "they would not have to risk drowning in the Mediterranean sea, they would be headhunted and treated with dignity…Let's make things better for our people especially our youth so they stay here and work to develop the continent," he added.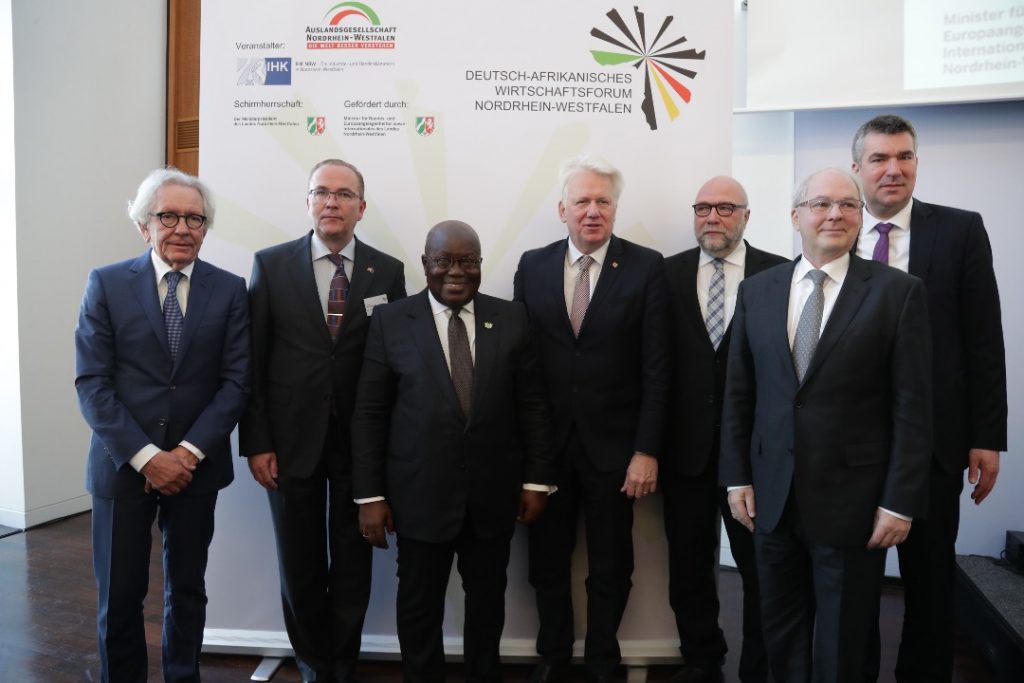 "Opportunities for all"
Nana Akufo-Addo vowed last November to reverse the trend of illegal migration from Ghana by building a sound economy with opportunities for all.
The trend, he bemoaned, was increasingly becoming a national security concern hence the resolve to work towards ending same.
President Akufo-Addo, speaking in an address at Cambridge University in the United Kingdom, said his administration was on the way to providing these economic conditions to stem the tide of illegal migration, and transforming the structure of the economy will be key to this.
"The Macro-economy has been stabilizing. The fiscal deficit which stood at 9.5 percent at the end of 2016, has been reduced to 6.3 percent. Inflation within the same period had declined from 15.4 percent to 11.6 percent. Our economy has grown from 3.3 percent to 7.9 percent. Interest rates are declining and we are now witnessing a more stable cedi."
"We are on the path to creating wealth and improving the lives of our people. We are determined to do that by transforming the structure of our economy… we have to move and we are moving towards an economy of processed agriculture and engineering goods and services. That is the way to job creation on a mass base and an improvement in the incomes of ordinary Ghanaians."
German-African Economic Forum
The forum is bringing together more than 300 participants from Africa and Germany, including start-ups, entrepreneurs, policymakers and investors to strengthen business ties between Germany and Africa.
The event will offer details on trade and investment opportunities for German companies in Africa, including industry, and country-specific information provided by successful entrepreneurs and renowned experts.
Additionally, the forum will focus on four sectors, namely: Infrastructure and Construction; Renewable Energy, Environmental Technology and Water Management; Mechanical and Plant Engineering and Digital Economy.
–
By: Sammi Wiafe/citifmonline.com/Ghana