President Nana Addo Dankwa Akufo-Addo has told political leaders in Togo that he cannot impose any solution on them following the political crisis in that country.
"I've come here with no solution; prescription or magic wand to impose or prescribe any solution for the resolution of crisis that has gripped your country in these last months," he said.
President Akufo-Addo made the remark on Monday moments after he entered into a closed door meeting with Togolese President Faure Gnassingbe and leaders of the main opposition parties who are pushing for presidential term limits.
[contextly_sidebar id="cARRewmaATYupErboFADJ3shAURaZH2V"]Togo, in recent times has witnessed a series of protests by opposition parties who are calling for the resignation of their President.
President Akufo Addo however expressed optimism about the outcome of the mediation process.
" My task is a simple one – to help assist in the dialogue between the various political actors of this country so that the peace, stability, consolidation of democracy and the rule of law which is the demand of the Togolese people is realized here in Togo," he added.
While in Togo, Akufo-Addo will also meet civil society groups that have joined the calls for a limit on  presidential term.
The President's visit comes weeks after General Secretary for the People's National Convention [PNC], Bernard Mornah, expressed concerns about President Akufo-Addo's seeming silence over the political crisis in Togo.
Mr. Mornah, who led a protest in Accra in that regard, was arrested by police together with others for disregarding the Public Order Act, an arrest he described as unlawful. That notwithstanding, he staged the protest again, and has since sued the police for unlawful detention.
'26 Togolese nationals arrested'
In October 2017, 26 Togolese nationals were arrested in Ghana for attempting to stage an unlawful demonstration over the political situation in their country.
According to the Accra Regional Police Operations Officer, Chief Superintendent Kwasi Ofori, about 300 Togolese had to be dispersed lawfully at the Kawukudi Park because their intended action was in clear breach of Ghana's public order act.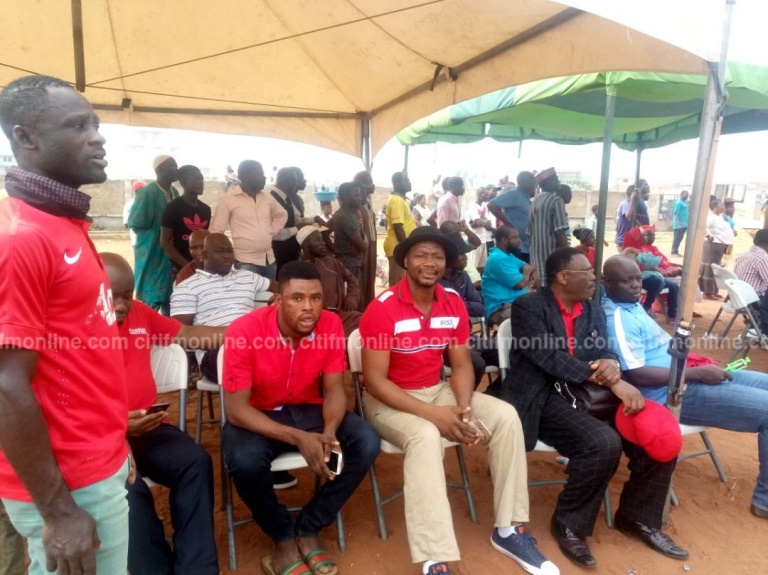 That was the second time Togolese nationals in Ghana had tried demonstrating in solidarity with efforts back home by the opposition to have presidential term limits.
'We'll bring political crisis to an end'
The agitation led to a public outcry, with some persons including the MP for North-Tongu and former Deputy Minister of Education, Samuel Okudzeto Ablakwa, calling on the President of Ghana to intervene.
President Akufo-Addo, in response to these concerns had stated that his administration has been working behind closed-doors in an attempt to bring the political crisis to a closure.
The President had said his government was in talks with Togolese officials to address the crisis in that country.
"The events that have taken place next door in Togo, are disturbing for all of us and especially for you, I know what it means. I remember vividly in 2005 when the former President Eyadema died, there were problems over the succession. Over 100,000 refugees stringed across the border. Many of them I think are still there. They have not gone back to Togo, so I know that anything that happens in Togo is a matter of very great concern and it is a concern to me and the people of Ghana.
"The Togolese President came to see me in Tamale ten days ago, and we are talking to see how we can bring this crisis to a closure and bring stability back to Togo. It is in our interest to do so. The appeal we are making are falling on very sympathetic ears. I am not staying idle on this matter . We are acting. Let us pray for the blessing of the Almighty, and we can find a solution that will be in the interest of the people of Togo and by implication the people of Ghana," the President said.
Closed door meeting 
In October 2017, President Nana Addo held a closed door meeting with Gnassingbe over the development in Togo.
The President had at the time revealed that the meeting was aimed at bringing the crisis to an end.
–
By: Godwin Akweiteh Allotey/citifmonline.com/Ghana
Follow @AlloteyGodwin