Egypt says it has killed 16 Islamist militants in an operation in Sinai in the north-east of the country.
Dozens of targets including weapons dumps, motorbikes and cars were also destroyed, a statement from the military says.
Four militants and 30 suspects were arrested, it adds.
President Abdel Fattah al-Sisi has ordered the military to defeat Islamists in the region by the end of this month.
He gave the order in November after a gun and bomb attack on a mosque killed more than 300 people.
Suspicion for that attack fell on an affiliate of the Islamic State (IS) group in Sinai and Mr Sisi authorised troops to use "all brute force" necessary to restore "security and stability" to the region within three months.
Egyptian ground troops, air forces and navy joined with border guards and the police for the operation, dubbed Comprehensive Operation Sinai 2018.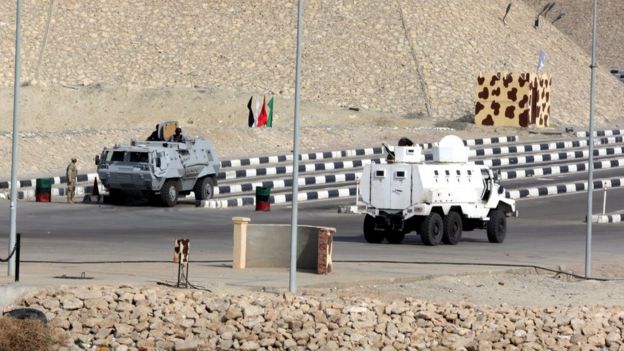 A spokesman said they found a communication centre, an explosives laboratory and six drug farms.
The Sinai peninsula, where Egypt's most active militants are based, borders Israel and the Gaza Strip.
Last week the New York Times reported that unmarked Israeli aircraft were carrying out covert strikes in Egypt with the Egyptian president's approval.
Egypt denied this, and Israel declined to comment.
The operation will also target militants in the Nile Delta and in western Egypt.
Who are the Sinai militants?
The IS Sinai affiliate, Sinai Province, has said it carried out many deadly attacks, mostly targeting the army. It also claimed the downing of a Russian airliner in October 2015, killing all 224 people on board.
Formerly known as Ansar Beit al-Maqdis, the group first appeared in September 2011 and rebranded itself with an IS pledge of allegiance in November 2014.
The group generally targets Egyptian security forces in northern Sinai but also claimed an attack on a tourist site in southern Sinai in April of last year.
In the first part of 2017 IS stepped up attacks against Christians in Sinai and elsewhere in Egypt, claiming two deadly attacks on churches in Tanta and Alexandria on 9 April.
IS started to scale up its attacks in Sinai from September 2017 onwards, as it started losing territory in Iraq and Syria.
In addition to its attacks on Christians, IS has adopted a threatening tone against Sufi Muslims, whom it considers to be heretics.
The head of the IS religious police in Sinai had previously said that Sufis who did not "repent" would be killed. IS has beheaded a number of Sufi men whom it accused of "sorcery".
The group did not say it had carried out November's attack on the al-Rawda mosque in northern Sinai but it is widely believed to have been responsible. Locals said the mosque was popular among Sufis.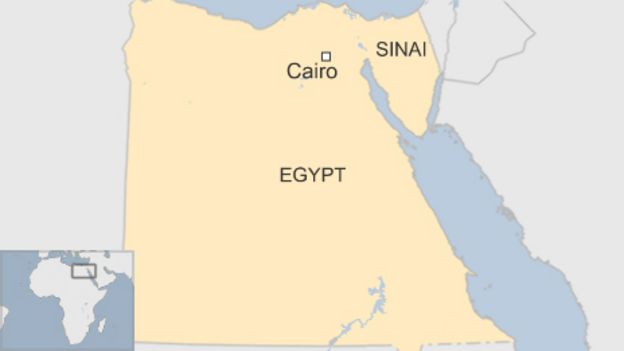 –
Source: BBC