Democrats on the US House Intelligence Committee have released a memo that counters Republican claims of bias in the investigation into alleged Russian meddling in the 2016 presidential poll.
It says the FBI and justice department did not – as the Republicans allege – abuse powers to spy on Carter Page, Donald Trump's former campaign aide.
Mr Page is suspected of being an agent of the Russian government.
Mr Trump dismissed the new memo as a "total political and legal bust".
He has repeatedly denied any collusion between his campaign and Russia.
The 10-page Democratic memo was released on Saturday. Parts of the document were redacted to avoid revealing intelligence gathering sources.
It calls a Republican memo published by Republican members of the Intelligence Committee earlier this month a "transparent effort to undermine" the FBI, the justice department and investigations into possible collusion between the Trump campaign and Russia.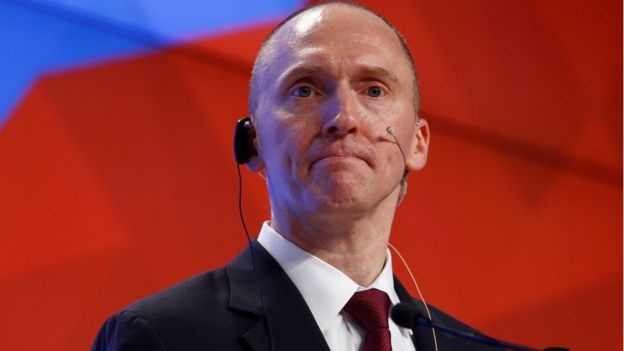 The Republican document alleged that the FBI used unsubstantiated evidence to spy on Mr Page, who was put under electronic surveillance by the intelligence agency.
Central to that claim was the charge that, in its application for a surveillance warrant against Mr Page in 2016, the FBI had relied upon evidence contained in a dossier complied by former British spy Christopher Steele – without revealing that his findings had been funded in part by the Hillary Clinton campaign.
–
Source: BBC