A group of angry youth purported to be members of the New Patriotic Party (NPP) besieged the Upper West Regional office of the National Disaster Management Organization (NADMO) on Wednesday evening and chased out the Regional Director, Isaac Seidu.
At about 5:00 pm on Wednesday, the youth from the Wa East district, numbering about 30, arrived in two pickups and a minibus, according to eyewitnesses.
[contextly_sidebar id="bO5XuINRZ15HQ6Lj64Q2Rgp2o14LY76Q"]Mr. Seidu escaped unhurt, but his personal assistant, Osman Seidu was beaten to a pulp and rushed to the Upper West Regional Hospital.
Mr. Saidu also told Citi News an amount of GHc 5,000 was stolen from his office.
The police got to the scene of the disturbances quickly to quell the situation and arrested three persons.
But the Upper West Minister, Alhassan Suleiman, ordered the release of the three persons.
The youth were subsequently called to a meeting with the Regional Minister, the Regional Director of NADMO, and the NPP Regional Secretary for over 30 minutes in the Minister's office.
Mr. Seidu commended the police for their swift response to the disturbances, saying "but for the police, the situation would have been different."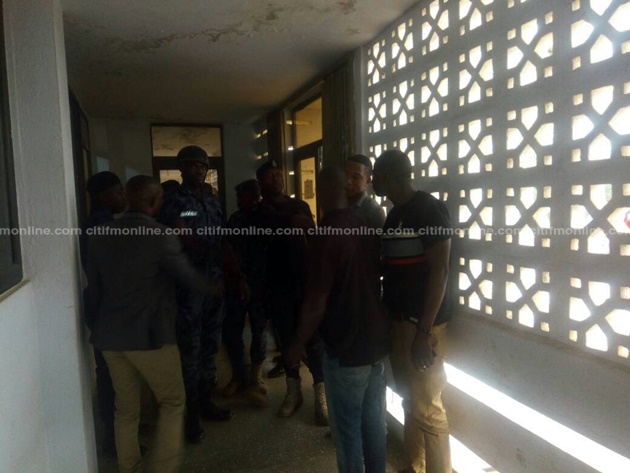 The Director, however, expressed disappointment in the Upper West Regional minister for allegedly preventing the Police from arresting the thugs.
"The Police came and met the boys around my office but when they wanted to make the arrest, the Minister came down and prevented them."
At the time of filing this report, the irate youth were still at the office of the Upper West Regional Minister, Alhassan Suleiman with heavy security presence.
Political vigilantism in Upper West
This incident marks the third major disturbance perpetrated by youth aligned to the NPP in Upper West Region in the last few months.
On January 22, some NPP youth in the Wa municipality vandalized the residence of the Municipal Chief Executive of the area, Issahaku Moomin Tahiru.
The rampaging youth also vandalized the family house of the MCE and two other houses belonging to his supporters.
In November 2017, NPP youth in Gwollu, the capital of the Sissala West District stormed the precinct of the Assembly and locked up the District Chief Executive, Mohammed Bakor in his office.
They had accused the DCE of engaging in "divide and rule" tactics, and failing to address their concerns.
After the Wa incident, seven NPP supporters were arrested and charged with rioting, including the Sissala West Constituency Chairman of the NPP.
–
By: Latif Mahama/citifmonline.com/Ghana