The Tunisian government has announced a wave of social reforms, reacting to days of demonstrations by anti-austerity protesters.
Protests broke out ahead of Sunday's seventh anniversary of the ousting of President Zine al-Abidine Ben Ali.
Emergency government meetings were held in response to protests, which have seen more than 800 people arrested.
President Beji Caid Essebsi is due to visit a district of Tunis on Sunday that has been the scene of protests.
Opposition parties have called for more demonstrations on Sunday, saying that conditions have not improved since Zine al-Abidine Ben Ali was deposed as president at the start of the so-called Arab Spring uprisings.
When did the protests begin?
Demonstrations in the North African country began on 7 January after the government announced New Year tax and price increases in its 2018 budget.
Rallies took place in at least 10 different areas, including the capital, Tunis. They began peacefully but clashes broke out between protesters and police, resulting in hundreds of arrests over several days.
The government accused demonstrators of setting fire to police cars and attacking officials. Some people tried to take over shopping malls and stores, while others blocked roads.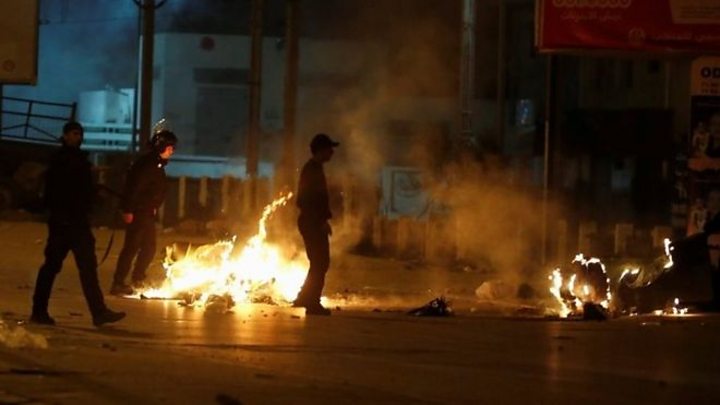 In the town of Thala, near the Algerian border, the army was called in on Wednesday after protesters burnt down the national security offices and police were forced to retreat.
The defence ministry said the army was protecting banks, post offices and other government buildings in Tunisia's main cities.
Demonstrators have accused police of a violent crackdown.
What caused the unrest?
Demonstrators want the government to abandon the 2018 budget, which opposition groups describe as unfair. They also want to see more welfare payments for struggling families.
The budget brought in an increase in value-added tax and social contributions along with price hikes on some goods and increased taxes on imports.
Even before the recent spate of protests there was simmering anger that life for many Tunisians had not improved since the Arab Spring.
What are the reforms being promised?
The announcement came after two hours of crisis talks at the presidential palace that included President Essebsi, political parties and trade unionists.
"We discussed the general situation in the country and the reforms, especially socio-economic, that must be adopted to overcome the current problems," said Wided Bouchamaoui, head of the UTICA employers' federation.
Officials said plans had been submitted to parliament to reform medical care, housing and increase aid to the poor.
Social affairs minister Mohammed Trabelsi said the government proposed increasing welfare payments to those in need by 170m dinars ($70m; £50m).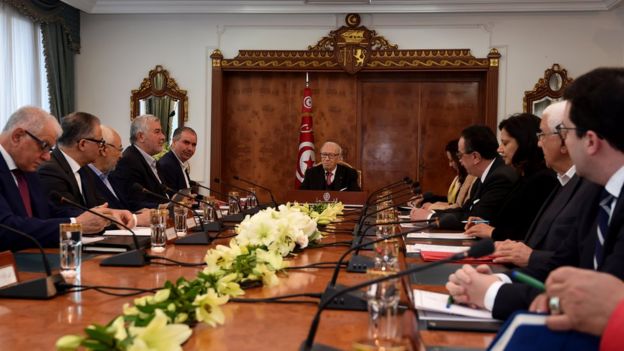 "This will affect about 250,000 families. It will help the poor and middle class," he said.
Mr Trabelsi also alluded to plans for guaranteed medical care and housing reform, but did not give details.
MPs will also discuss an increase in the minimum wage, reports say, although nothing has been confirmed.
What is Tunisia's economic situation?
Tunisia has been struggling economically since President Ben Ali was ousted after more than 20 years in power.
That revolution was sparked by high unemployment and worries about corruption.
However, seven years on, some of the same problems remain – not helped by terror attacks that have hit Tunisia's vital tourism industry and foreign investment opportunities.
In December 2017, the International Monetary Fund (IMF) told Tunisia it needed to take "urgent action" and "decisive measures" to reduce its deficit. The IMF gave the country a $2.9bn (£2.2bn) loan in 2015.
What is the government reaction?
Prime Minister Youssef Chahed has tried to calm the situation, assuring Tunisians that 2018 would be the country's last "difficult" year.
President Essebsi accused foreign media of "amplifying" the unrest and damaging the country's image with its coverage.
Interior ministry spokesman Khlifa Chibani said on Saturday that 803 people had been arrested so far on suspicion of violence, theft and looting.
He said 97 members of the security forces had been injured, but did not say how many protesters had been hurt.
The UN's human rights office expressed concern on Friday over the large numbers being detained.
–
Source: BBC