A Street Hygiene Ambassador (SHA), Evangelist Bright Adoboe, has expressed worry at the rate at which Ghanaians are living in filth.

He has observed that currently, the sanitation coverage in Ghana was about 14 percent, meaning that 86 percent of space occupied by the public was dirty.

To this end, Evangelist Adoboe has called on Ghanaians to adopt better hygienic practices and behaviours that would help keep the country clean.

"Ghanaians should practise quality hygiene as a lifestyle, in that, when one eats fan yoghurt for instance, the person puts it in his bag and later dump the waste in the dustbin at home for the waste management service providers to collect and adequately dispose," Evangelist Adoboe stated at a clean-up exercise held in Accra over the week.

The exercise which was organised by SHA in partnership with Zoomlion Ghana Limited had the primary goal of seeing organisers contributing towards a clean Ghana and championing the agenda of the Ministry of Sanitation and Water Resources in Ghana.

The exercise which started at 0700 hours at the Tetteh Qurashie interchange and the Accra Mall enclave had about 75 volunteers of SHA and 35 personnel from Zoomlion indulging in activities like the collection of polythene bags, pure water sachets, yoghurt wrappers as well as other filthy waste products from gutters, lawns and along the streets of the allocated venues.

Zoomlion Limited provided equipment like; overalls, boots, hand gloves, brooms, face masks, shovels and wheel barrows to ensure that the exercise was effectively done without health hazards.


Organisers also sensitised the citizenry on the importance of cleanliness with placards with inscriptions such as "Say No to Filth," "Be a Street Hygiene Ambassador," "Make Ghana the cleanest in the World," "A Clean Ghana, A Beautiful Ghana," and "Cleanliness is next to Godliness," among many others championing the course.

On the choice of location, Evangelist Adoboe explained that SHA chose the location since it was one of the busiest public centres that attracted thousands of revellers in Accra. 

"This is our decision for organising the programme around the interchange to also sensitise the pedestrians and drivers on the importance of keeping the city clean. 

"Secondly, since thousands of people may troop in to shop and have fun at the mall especially during the holidays, there is a possibility of increase of waste around the interchange, hence our decision to contribute in keeping the environment clean", Evangelist Adoboe said.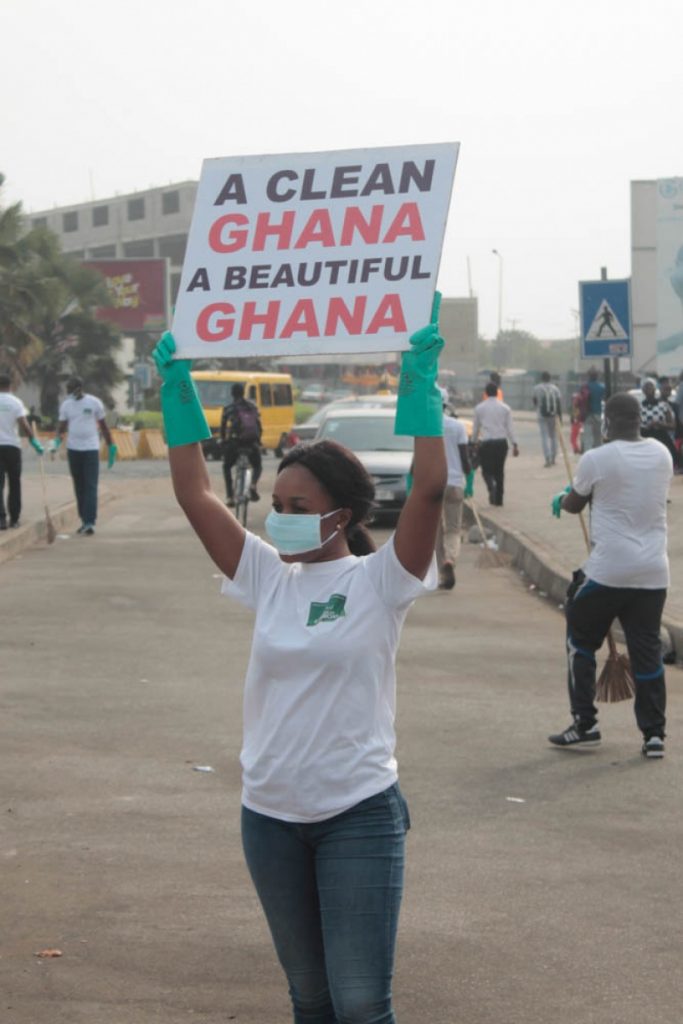 He also noted that, SHA were not there to only clean the place but to educate and therefore urged Ghanaians to live a clean lifestyle in their homes, on the streets and everywhere in the city of Accra. 

The President of SHA, Selorm Solomon Nyale, urged Ghanaians not to leave their civic responsibility solely to waste management firms but be involved to make the country clean adding that "Let us also learn to make use of allocated dustbins at vantage points and desist form littering around," he advised. 

One of the organisers, Jefferson Affordofe, said sanitation should be a priority in Ghana and that people should willingly support and practise proper sanitation habits.

He appealed to government to enforce policies regarding segregation of waste such that polythene bags, plastics and other waste materials that do not easily decay are separated from other waste.

Mr. Affordofe also advocated that paper bags should be used instead of polythene since paper decays faster and was less hazardous adding that "Dustbins should be quickly picked up by service providers as soon as they become full so that they do not begin to pollute the environment."

Mr. Affordofe urged Ghanaians to adopt a new attitudinal change and adhere to government policies regarding sanitation, its enactment and enforcement of sanitation by-laws by District Assembles which ultimately would make Ghanaians conscious of their civic responsibilities, thus making Ghana the cleanest place in the world.


Source: GNA