Some passengers on-board a Kumasi bound VIP Bus were over the weekend left to their fate when the driver of the bus with registration number, GL 375-13, abandoned the vehicle in the middle of nowhere, hopped into another vehicle and chased a saloon car, because someone in that car had broken the bus' windscreen with an object.
The VIP bus driver, identified as Nana Boadi, reportedly reversed the vehicle which had about 30 passengers, and gave the saloon car a hot chase, but later abandoned the bus when the passengers complained about that action.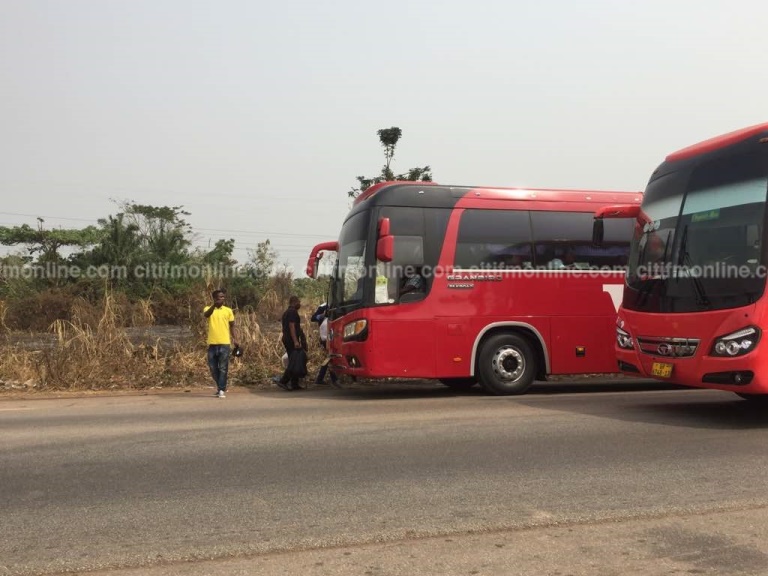 Some of the angry passengers who narrated the incident to Citi News say the object that was thrown from the saloon car broke a portion of the bus' windscreen.
They however expressed their disappointment in the driver's action, since they were of the view that he could have used a better approach instead of putting their lives in danger in that manner.
The driver, according to the passengers, ignored their caution not to chase the saloon car.
The passengers are thus demanding an apology from management of the intercity transport giant which has created a niche for itself with its luxury buses.
They also want the driver of the said bus punished.
"On  our way when we passed by a little town called Dadieso, near Nkawkaw, all that I head was a big bang. I was reading by then, so when I raised my head, I saw that the right side of the windscreen had burst and pieces of glass falling all over. So when we tried to find out, we were told that an oncoming car had thrown something and it hit the windscreen."
"But the driver instead of stopping and checking on the health of the passengers, he rather in the middle of that small road reversed and started coming towards Accra. I challenged him and he said he was chasing the car from which the object came from. So he packed by the road just by the railway line, abandoned us and left," one of the passengers narrated.
He said they later joined some VIP vehicles that were also heading towards Kumasi.
"Some of us, with the help of the driver's mate we contacted the VIP [head office in Accra] so a few of us had to board some of their buses that were also heading towards Kumasi," he added.
Another lady who was on the bus said: "we all started shouting at the driver when he reversed the vehicle."
"He [Driver] got out of the bus and jumped unto another VIP bus and sped off. Some of the passengers took taxis and mini urvans that were heading to Kumasi. Someone contacted the head office of VIP and they said they will set up a committee to investigate it. I don't know what they are going to do. It was really terrible. This driver should be called to book," she added.
–
By: Godwin Akweiteh Allotey & Caleb Kudah/citifmonline.com/Ghana
Follow @AlloteyGodwin