At least eight migrants have drowned and 84 have been rescued after a rubber dinghy sank off the coast of Libya, the Italian coastguard said.
Dozens of others might still be missing, the Spanish rescue charity Proactiva Open Arms said.
It is believed to be the first sinking of a migrant boat in the Mediterranean in 2018.
The sea crossing to Europe is the deadliest route in the world for migrants, the UN says.
Nearly 34,000 migrants have drowned or gone missing in the waters since 2000, according to figures from the International Organization for Migration.
The German charity Sea-Watch said at least 25 people had died but numbers were still unclear. One of its boats was on the way to the scene north of Tripoli, it added.
Proactiva Open Arms said many of those rescued had spent hours in the water.
The coastguard said the partly submerged dinghy was spotted by a surveillance aircraft engaged in the EU's Operation Sophia, which aims to intercept boats engaged in people smuggling.
"The search continues for survivors," it added.
In 2017 nearly 3,000 migrants were believed to have drowned while trying to cross the Mediterranean.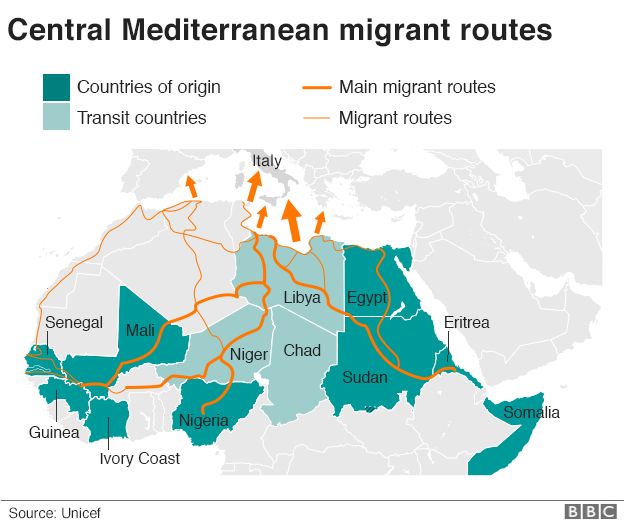 On Friday, the EU's border management agency, Frontex, said the numbers of migrants travelling to Europe illegally last year dropped 60% to 204,300.
The numbers travelling to Italy was 119,000 – 34% fewer than 2016, Frontex said.
The drop was due to improved border controls, the agency added.
The EU saw record levels of asylum seekers arriving in 2016 but the numbers have fallen since a deal with Turkey stemmed the influx of those crossing into Greece.
–
Source: BBC