German Chancellor Angela Merkel will launch a new round of coalition talks on Sunday in a bid to end the country's political stalemate.
More than three months after its election, Germany is still without a new government.
The five-day talks will include Mrs Merkel's Christian Democrats (CDU), her allies the Christian Social Union (CSU), and the Social Democrats (SPD).
Many see this as her last chance to form a stable coalition.
The centre-left SPD has governed jointly with the chancellor's centre-right party for eight of the last 12 years. But a historically poor poll result in September saw SPD leader Martin Schulz vow to take the Social Democrats into opposition.
Pressure has mounted on the SPD since November, when Mrs Merkel failed to cobble together a coalition with the liberal FDP and the Greens.
The chancellor must now convince SPD leaders that they have enough common goals to start formal coalition negotiations by March or April.
European Union allies, such as France, see Germany as a pillar of stability in the bloc and will be hoping she succeeds.
What are the sticking points?
Immigration, Europe, tax, and healthcare could all become points of contention.
Within the SPD, there are fears that reforming the grand coalition would cost the party yet more support. The party's poll ratings are down and some centre-left critics argue the SPD has given up its core principles to cling to power with Mrs Merkel.
The chancellor faces similar censure from conservatives, who say she has abandoned traditional values and driven voters towards the far-right Alternative for Germany (AfD), which is now represented in the federal parliament for the first time.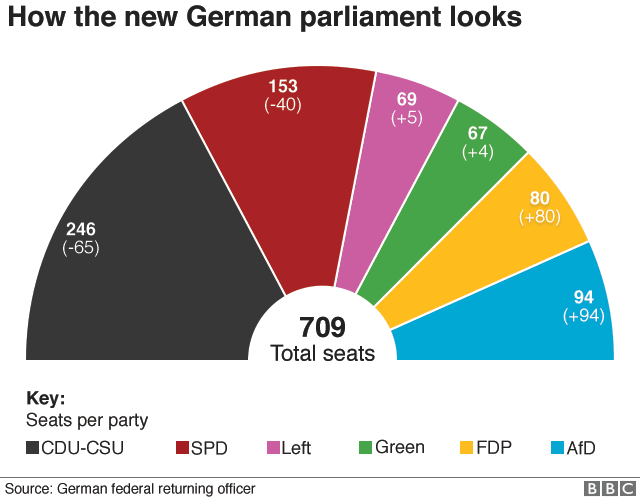 Will the talks succeed?
Top leaders from the three potential allies met on 3 January to discuss preliminary issues, and have sounded an optimistic note since then.
"Confidence has grown, and we go into the talks with optimism," a joint declaration said.
SPD Chairman Mr Schulz spoke of a "very focused, meaningful debate".
Horst Seehofer of the CSU said he felt the parties would probably agree to govern together, saying: "I think we'll manage it."
The parties have agreed to a media blackout during the talks, which will finish on 11 January.
If they prove successful – and the SPD's members vote to proceed – full-blown coalition talks will follow.
What happens if they fail?
If talks fail, Mrs Merkel could form a less stable minority government with the Greens, with SPD support.
However, she has previously said she would prefer a fresh election to that eventuality.
–
Source: BBC