A mural believed to be by artist Banksy should be removed from a disused Hull bridge, a local councillor has claimed.
The stencilled design depicts a child carrying a wooden sword with a pencil attached to the end.
Images of the mural were shared on Banksy's official Instagram account on Friday.
Conservative councillor John Abbott said Banky's work did not compare with "real art" in the city gallery.
"I think that should be cleaned off. It should be photographed and the photograph kept because Banksy is not without talent," said Mr Abbott.
"But to compare Banksy for example with some of the real art in the Ferens Art Gallery, which is quite mind-bogglingly brilliant at times, is, shall we say, to judge by two different sets of standards."
He said graffiti of any kind placed on walls should be removed.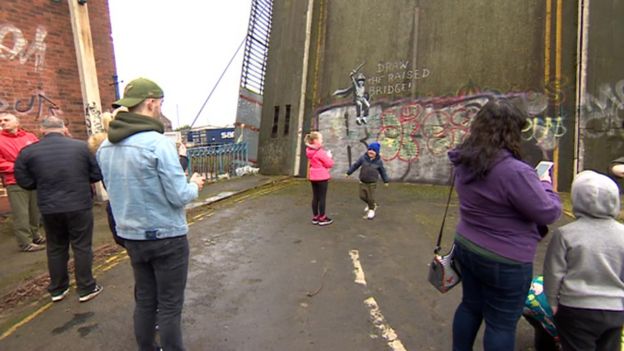 The elusive street artist posted two photos of the permanently raised bridge, situated on Scott Street in the Wincolmlee area.
People have been visiting the area since news of the artwork was announced leading to the area round the bridge being fenced off.
One visitor described seeing the mural "as a dream come true".
"I've followed Banksy's work for many years," he said.
"Never thought I'd see one and actually stood in front of it. You find them in Dubai and places like that."
BBC Arts Editor Will Gompertz described Banksy as a "good artist and a genius PR man".
"I don't think you can remove it," he said.
"I think the whole point of Banksy's work is they are what is called site specific… they work because of the places they've been put and if you remove the location the work loses its power."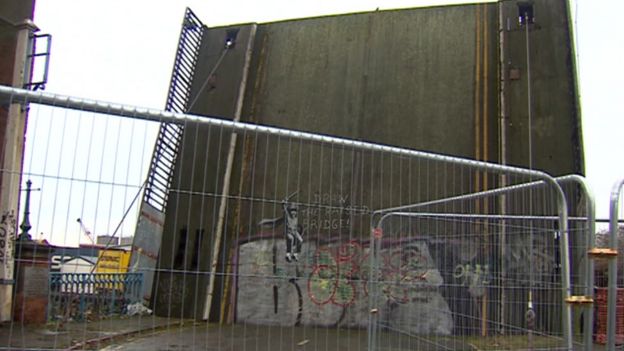 -Source: BBC