Czech President Milos Zeman has won a second five-year term in office following a tight run-off vote against rival Jiri Drahos.
Mr Zeman, a pro-Russia and strident opponent of immigration, took 52% of the vote, narrowly beating Mr Drahos, a pro-EU academic with no prior political experience, Czech television reports.
Saturday's ballot was the second round for the presidential candidates.
In the first round, Mr Zeman had 38.6% of the vote while Mr Drahos won 26.6%.
Casting his vote on Friday, Mr Zeman said Mr Drahos lacked experience.
"My opponent is someone who has not yet practised politics," he said.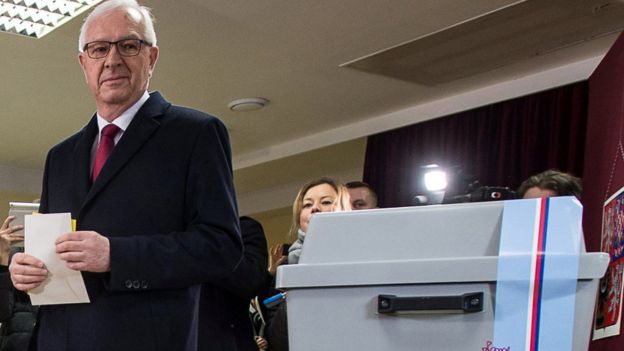 Meanwhile Mr Drahos thanked his supporters, saying their "energy will not be thwarted, whatever the outcome", AFP news agency reported.
The election has reflected divisions between low-income voters with lower education and those living in rural areas, who tend to vote for Mr Zeman, and wealthier and well-educated residents of bigger cities, who are likely to prefer Mr Drahos, correspondents say.
The post of president is largely ceremonial but hugely influential. It picks, for instance, which politician can form a government.
Mr Zeman has promised to give Prime Minister Andrej Babis, a billionaire businessman, a second chance to form a government after his minority cabinet lost a confidence vote in parliament last week.
Mr Zeman's current presidency does not end until March, so he plans to reappoint Mr Babis next month.
Who's who in Czech run-off?

Milos Zeman, 73
Joined the Communist Party in 1968 during the "Prague Spring" but was expelled in 1970 for opposing Soviet intervention that crushed moves towards liberal reforms
After communism fell he joined the left-leaning Social Democratic party and became leader in 1993
In 2013 he became the third president of the Czech Republic since it split from Slovakia in 1993
In his outspoken remarks on immigration he once said that Muslims were "impossible to integrate" into Europe
In the EU, he has fiercely opposed sanctions against Moscow and has made improving relations with China a priority

Jiri Drahos, 68
Studied chemistry and technology and was president of the Czech Academy of Sciences from 2009 to 2017
He is a supporter of EU and Nato membership but opposes the EU's quota system for distributing migrants
He considers himself a centrist politician who can unite the country
He has never belonged to any political party, and claims spread on social media that he collaborated with the StB (secret police) were proved false
After the first round, he told the BBC that he wanted to "end the climate of populism and fear in Czech society" that has marked Mr Zeman's presidency
–
Source: BBC