Walt Disney has agreed to buy 21st Century Fox's entertainment assets for a total $52.4bn (£39bn).
The deal includes Fox's 39% stake in satellite broadcaster Sky, and the 20th Century Fox film studio, Disney announced.
Fox's remaining assets, including Fox News and Sports, will form a new company.
The deal ends more than half a century of media expansion by Fox owner Rupert Murdoch, who is 86 years old.
He turned a single Australian newspaper he inherited from his father at the age of 21 into one of the world's largest news and film empires.
Mr Murdoch will still retain control of News Corp, the news publishing group that split away from 21st Century Fox in 2013 and which owns the Times and the Sun newspapers.
Disney's purchase will add to its huge back catalogue, with high-grossing films such as the original Star Wars movie, the Marvel superhero pictures, Avatar and Deadpool, as well as TV hits including The Simpsons.
Disney chief executive Bob Iger said that Disney was "incredibly excited" about the acquisition, and that it was an "opportunity to expand iconic franchises", including Avatar and Star Wars.
"May the Force be with us all," Mr Iger said.
Succession question
Mr Murdoch's shift to selling assets rather than buying them has come as a surprise to those who expected him to hand over the businesses to his sons, James and Lachlan.
James Murdoch had been widely tipped to be given a senior role at Disney. But Mr Iger told Good Morning America: "James and I will be talking over the next couple of months. He will be integral to the integration process. He and I will be discussing whether there is a role for him or not at our company."
Mr Iger will remain in his role until the end of 2021.

It is not clear how the deal will be received by US competition regulators.
The US Department of Justice recently sued to block AT&T's $85.4bn deal to buy Time Warner, on the basis that it will raise prices for consumers and competitors.
In the UK, Fox's proposed deal to buy the remainder of Sky is being already investigated by the Competition and Markets Authority (CMA), which is due to publish provisional findings in January.
The BBC understands that the Disney deal will not alter that CMA investigation.
Rupert Murdoch said: "If things go wrong, the existing [Sky] shares go to Disney. It will be up to them to decide what to do."
Fox is selling assets including its FX and National Geographic cable channels and media company Star India.
Disney also will buy Fox's stake in the Hulu video streaming service, giving it majority control of a competitor to Netflix.
Hulu is also partially owned by Comcast and Time Warner.
Paolo Pescatore, an analyst with CCS Insight, said: "The move will firmly establish Disney as one of the leading media companies in the world and puts it in a great position to compete head on with the threat posed by the web providers such as Amazon and Facebook."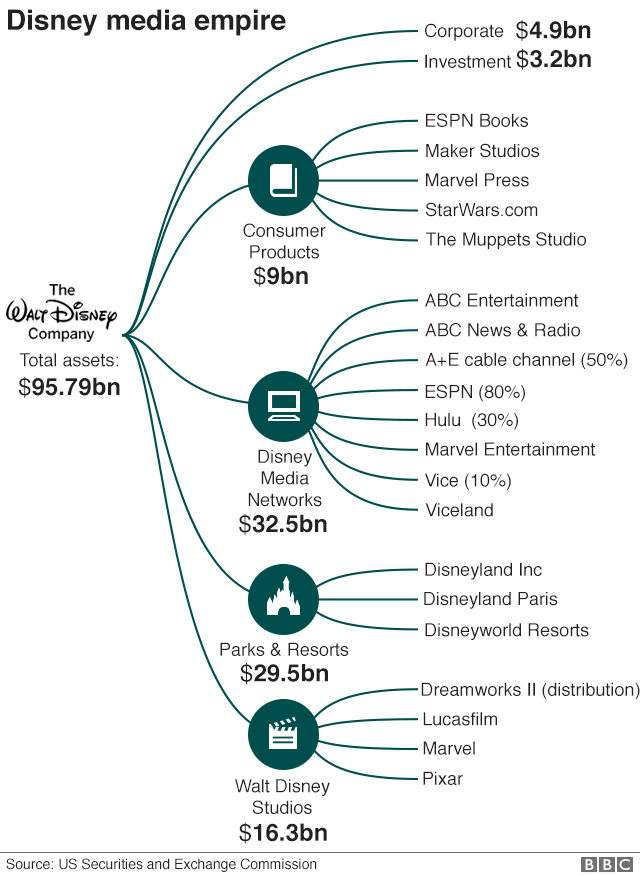 –
By: BBC