President Nana Akufo-Addo has written to the Trade and Industry Minister, Alan Kyeremanten, demanding answers from him over allegations that his ministry charged expatriates between $25,000 and $100,000 to enable them to sit close to the President at an awards ceremony.
The President is seeking full disclosure on the matter, and has given the Minister until 5 pm today [Wednesday] to report to him.
Although the matter has  been running for nearly a week, President Akufo-Addo's summon comes a day after the fall out from allegations culminated in the Deputy Minister for Trade and Industry, Carlos Ahenkorah, clashing with the Minority Spokesperson on Foreign Affairs, Samuel Okudzeto Ablakwa in Parliament.
The Ministry of Trade and Industry has already dissociated itself from these allegations which first came from the Minority Chief Whip, Muntaka Mubarak.
Mr. Mubarak said the fees charged at the Ghana Expatriate Business Awards (GEBA) were not approved by Parliament, adding that the monies were also not accounted for in the Internally Generated Funds [IGF] of the Ministry's accounts.
The Trade Ministry, in a statement, said it played no role in determining prices for seats at the event, and clarified that it only facilitated the implementation of a new initiative by the Millennium Excellence Foundation.
It also said the foundation was to take that responsibility for the organisation of the event.
Mr. Ablakwa had previously called on the Trades Ministry to apologize to President Akufo-Addo for embarrassing him, and return the monies to the expatriates.
But Mr. Ahenkorah described Mr. Ablakwa as a "big liar" and accused him of making baseless allegations against the government. He did this by barging into an interview the MP was granting on the matter in Parliament.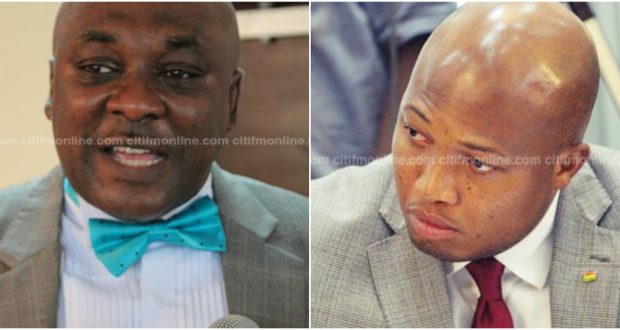 He subsequently defended his verbal assault on Ablakwa, saying "we must let these people understand that we are in power".
The deputy Minister showed no remorse when interviewed on Eyewitness News, claiming that Mr. Ablakwa was out of order when he suggested that he and the NPP government were corrupt.
"…calling me corrupt and describing my person and my activity as corrupt. On the floor of Parliament, it's a different ball game. I will not allow anybody to denigrate myself or my ministry or my minister and just go scot-free. If you say that, I have to pay it back to you, especially when these people were in government, they just looking down upon everybody and calling our president names, this time we will not allow."
"A person like Okudzeto Ablakwa can never ever tag me as corrupt when he himself cannot account for some of his practices when he was in government. And I take serious exception to anybody trying to tag me in that manner. What was so unprintable of the language that I used? I did not say anything that was not true. He is a thief. He took money to go and do Campus Connect," Mr. Ahenkorah fumed.
–
By:Delali Adogla-Bessa/citifmonline.com/Ghana