Basilissa, a local family restaurant in the capital has launched a promo campaign as part of its ten year anniversary to reward loyal customers with electric scooters.
The promo dubbed "[email protected]" seeks to reward 12 customers with 12 electric scooters worth GHC50, 000 within the next 12months for their support and patronage.
The first winner of the on-going promo was revealed last Friday in a draw held at their Accra Mall branch. Kenneth Siisi Mayyne, a resident of Gbawe and civil servant became the maiden winner of the electric scooter.
Speaking via phone, Kenneth said that he was surprised to be called and declared the winner of a brand-new electric scooter.
He expressed delight and also commended the management of the eatery for the gesture. He promised to make the restaurant his preferred joint in the capital.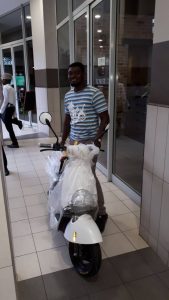 The Head of Accounts at Basilissa, Mr Michael Hero Agbemavor disclosed that the promo which forms part of their 10-year anniversary celebrations is aimed at showing love and appreciation to their customers for their tremendous support and loyalty."
Basilissa is 10 years old and as parts of the plans, management has decided to give 12 Electric Scooters to 12 of our cherished customers.
This is the first draw and we will be doing it monthly until next December. Our customers have been very loyal to us and management has decided to reward our customers and also promote our new products like the Basilissa shawama and pizza".
Michael Hero  Agbemavor also used the opportunity to send a warm Christmas message to Ghanaians and also assured of delicious meals during the festive season.
About the promo Basilissa will put 12 Electric Scooters up for grabs by all customers that will buy any food from any of the Basilissa branches.
Upon the purchase of a meal, the customer tears and fills the bottom section of the ticket with name and phone number and drops it in a box.
At the end of every month, all entries will be collected from all Basilissa branches for a draw at which one customer will win an Electric Scooter.
There will be one draw every month for 12 months. The draw will rotate from branch to branch throughout the promotional period.
–
Philip Lartey/citifmonline.com/Ghana