Ghana Rugby ended the year ended on a high note in Accra with the "Get Into Rugby" (GIR) year-end festival at the Kanda Cluster of Schools on Wednesday, December 23, 2017.
The schools with rugby teams ended the term with a touch rugby competition among the boys and girls.
It is the third time the program has been held at the Kanda Cluster of schools.
Participating schools included the Islamic Training Institute, Al-Waleed Comprehensive Islamic Basic school, Kanda 3&5 JHS, Kanda '1' Basic, Kanda A.M.A JHS and Aggrey Memorial International School.
Each school presented two teams – one each for the boys and girls – with 12 players in each side making up a total of 96 participants in the event.
The first round match was between the Islamic training Institute against Al-Waleed.
In Group B Kanda 3&5 JHS played against Kanda '1' Basic boys and girls. the girls' group was won eventually by Kanda 3&5 JHS with the second position going to Islamic Training Institute.
Kanda '1' Basic finished third while  Al-waleed Comprehensive Islamic Basic school placed fourth.
The winner in the Boys group was the Islamic Training Institute with Kanda '1' Basic second, Kanda 3&5 JHS third and Al-Waleed Comprehensive Islamic Basic school in fourth.
Ghana Rugby Board Development Officer, Rafatu Inusah, said she saw a massive improvement in most of the players from all the schools.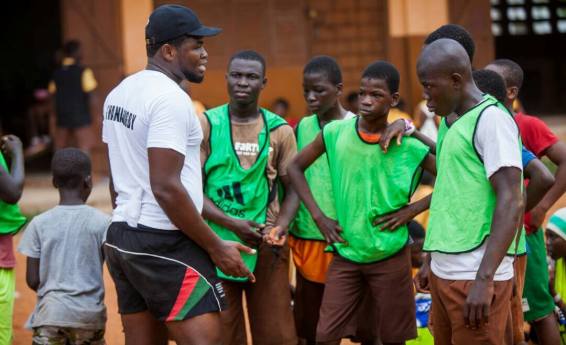 "Both boys and girls performed very well, and it was an achievement for not only me but for Ghana Rugby as a whole," Inusah said.
The event was also covered by AFP (Agence France Presse) who interviewed some of the students from various schools.
Memunatu from Kanda 3&5 JHS, for instance, said she loves to play rugby because it is a friendly and exciting game which could be enjoyed by both boys and girls.
Development Officers who took part in the festival included Ms Rafatu Inusah, Ms Kadija Adams, Mr Francis Donkor, Mr Emmanuel Kalos, Mr Philip Asomani and some players from Conquerors Sporting Club.
The event was also captured by Ghana Rugby's photographer, Mr Chika Israel. Ms Inusah enouraged the students to always get united as one big rugby family.
She again emphasised the values of rugby of respect, integrity, solidarity, discipline and passion to them. Inusah also cautioned the students to take good care of themselves as they are going for the Christmas holidays and to welcome the new year with a renewed energy.
"I am grateful to God for a successful program and also want to thank all who supported the event, especially the President and Board Chairman, Mr Herbert Mensah."
–
By: citifmonline.com/Ghana